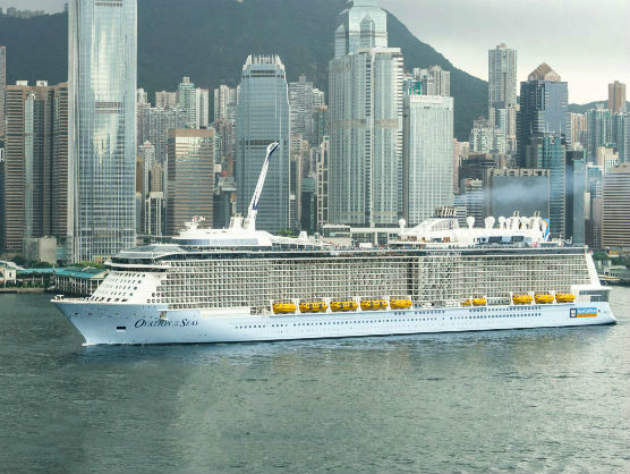 "We certainly expected to see record breaking growth, but we are astonished at the rate," admits Cindy D'Aoust, president and CEO at the Cruise Lines International Association (CLIA). D'Aoust is referring to the CLIA's 2016 Asia Cruise Trends study, which lays bare the scale of change.
Taken as a whole, Asian markets posted a 24% increase in demand from 2014 to 2015, totalling 2.08 million passengers in 2015. This year, 60 ocean cruise ships will sail in the region, compared to 43 in 2013, and eight more than 2015. Across Asia, there are 204 destinations in 17 countries; but despite Japan being the biggest destination country with 1,526 port calls this year, it is China that has grabbed the headlines.
The CLIA tells us that, from 2012 to 2015, the number of Chinese passengers grew at an annual compounded rate of 66%. Last year this growth was 40%, equating to 986,000 passengers, which represents close to half of the total Asian volume. This, says the study, means that "in both 2014 and 2015, China has been the world's fastest growing major source market".
But why? D'Aoust puts it down to three things: the flexibility that cruising provides; the number of "desirable destinations" in Asia; and the population and disposable income of the Chinese middle class.
Edie Rodriguez, president and CEO at Crystal Cruises, also highlighted this, saying in July: "Asians are getting wealthier. If we look at China alone, at last count they had about 387 billionaires and more than 1,000,000 millionaires."
New cruises, new ships
That only goes so far, though, and all the disposable income in the world doesn't really matter if the infrastructure and ships are not there. "It's been a long and slow development," explains Helge Hermundsgård, area manager and director of the Global Cruise Centre at DNV GL Maritime. "The thing that really accelerated it all is the cruise liners coming in and launching new brands."
Hermundsgård is referring to the likes of Royal Caribbean, which in June announced that the Ovation of the Seas, one of the largest cruise ships in the world, will homeport in China, as well as the Mediterranean Shipping Company, which will deploy a second ship – the MSC Splendida – in China from May 2018. Reports suggest it will visit China, Japan and Korea, and MSC Cruises chief executive, Gianni Onorato, said in September: "Deploying MSC Splendida to the shores of China is a further testimony of our commitment to this key growth market."
"We are astonished at the rate of growth."
A large chunk of investment has come from Carnival Corporation, through new cruises, shipbuilding, and joint ventures. During the 11th annual China Cruise Shipping and International Cruise Expo in Tianjin, the company signed a deal with Fincantieri and the China State Shipbuilding Corporation (CSSC) to build two new cruise ships at Shanghai Waigaoqiao Shipbuilding, the first of which could arrive in 2022. The agreement comes just one year after Carnival joined forces with CSSC and the China Investment Corporation to create a multi-ship domestic cruise brand in the Chinese market.
Norwegian Cruise Line Holdings will also launch the 3,850 passenger Norwegian Joy, its first Chinese purpose-built ship, from its Shanghai homeport next summer. Frank J. Del Rio, the company's president, was quoted by World Maritime News as saying that, "nearly 7,000 international tourists" will cruise to port cities in China in the next six months alone.
Building the infrastructure
More and more liners are catching on, further fuelling the already phenomenal appetite, but that should not cloud the fact that, in infrastructure terms, there's substantial progress to be made.
"I would be surprised if there is not a lot of work to be done," says Hermundsgård. "If you look at the established yards in Europe, they have been building these ships for many years, they have experience, a fully functioning team and established infrastructure, with a supply industry around them."
You can't, he warns, "necessarily just turn on the switch and say it works from day one". Very true, but it has to start somewhere. China is investing in new port facilities, and as mentioned earlier, the CSSC is working with Carnival on the first domestically-built ships.
D'Aoust is diplomatic in her assessment: "[It is] true with any destination. It's so important that not only the port infrastructure but all the service providers are there and well trained. So, when the travellers reach their destination, they get the experience they paid for."
The Chinese passenger: a changing demographic
There's an interesting point about the Asian cruise passenger that should not be overlooked. "One of the things we look at in Asia; the passengers there typically tend to be under 40 years old so we need to make sure that the offerings appeal to that younger traveller," explains D'Aoust.
This goes against the common view that a cruise is more suited to the older generation, and, adds D'Aoust: "They also prefer shorter ocean cruises; 30% of them are interested in cruises of two to three nights, and 50% four to six nights. Cruising today is very different to what it was just five years ago."
In China, the average age of cruisers is below 43, with about 42% below 40 years old. In addition, more than eight out of ten passengers cruised within Asia, according to the CLIA.
A new market, a younger audience: in a sense a changing of the guard. "You can't simply copy what you're doing in the Caribbean or the Mediterranean," says Hermundsgård. D'Aoust agrees: "The cruise liners have recognised the need to bring their best ships and best amenities to the region. Some of the new on-board offerings are tailored specifically to the Asian market."
"In China, the average age of cruisers is below 43."
High-end shopping, original cuisine, speaking the language, or Chinese artwork – as is the case with the Norwegian Joy – help the ships feel more welcoming and intimate.
This, coupled with the investments and plans of cruise operators to stake their place in the market, has Hermundsgård and D'Aoust convinced that Asia could topple North America and become number one in the world.
"We are looking at the possibility [of that happening] within the next ten years. We don't see the growth slowing down. There's tremendous potential to keep going," predicts D'Aoust. For Hermundsgård, much of this is tied into the population of the continent, although he adds: "However, like everything else, you never know."
It's true to say that some have been caught unaware by what has occurred in recent years, as predictions have been blown out of the water. It's worth remembering, though, that this new market is only an infant. Just what it could achieve once it matures to adolescence, and then adulthood, remains to be seen.