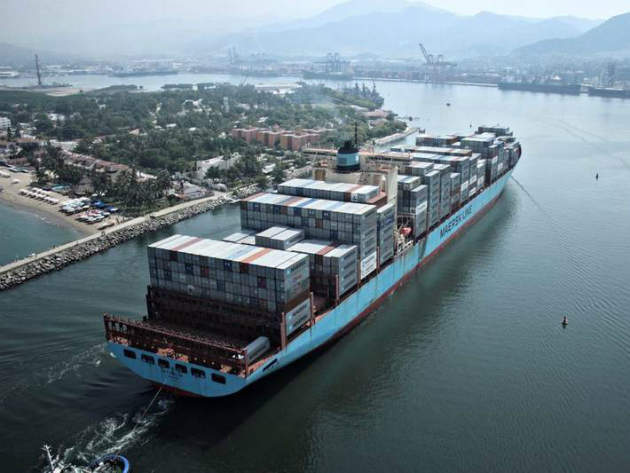 First launched in 2009, blockchain gained notoriety as the technology that makes bitcoin transactions possible. In recent years however, it has spread beyond the crypto-currency realm, to become synonymous with an effective, transparent and cyber-secure data sharing platform between companies and individuals.
Naturally, financial institutions were the earliest adopters. Last year, a study by Greenwich Associates reported that the sector was expected to invest $1bn in blockchain initiatives and projects. At the start of this year, the Bill & Melinda Gates Foundation announced plans to use blockchain to help the two billion people worldwide who lack bank accounts.
When it comes to shipping, the solution has the potential to save the industry billions of dollars, according to IBM and Danish transport and logistics firm Maersk. In June, the two companies announced their partnership to use blockchain technology to help transform the global supply chain.
The solution, expected to go into production later this year, will help manage and track the paper trail of tens of millions of shipping containers across the world, protecting the supply chain from human error, unwanted and wasteful delays, as well as cyber threats.
"We believe that this new supply chain solution will be a transformative technology with the potential to completely disrupt and change the way global trade is done," said Bridget van Kralingen, senior vice president of industry platforms at IBM. "We've long understood the challenges facing the supply chain and logistics industry and quickly recognised the opportunity for blockchain to potentially provide massive savings when used broadly across the ocean shipping industry ecosystem."
Preventing astronomical shipping costs
Today, the vast majority of the transactions in the shipping sector are paper-based. In a study carried out in 2014, Maersk found that just a simple shipment of refrigerated goods from East Africa to Europe goes through nearly 30 people and organisations, including more than 200 different communications among them.
The costs associated with the document processing and administration side of things are estimated by IBM to be up to one-fifth of the actual physical transportation costs. Not only this, but the paperwork can be delayed, misplaced and altered, causing further problems and resulting in mounting costs.
"Blockchain could save $300 per container in terms of labour and processing associated documents."
Blockchain can counteract all of these issues by acting as a permanent and transparent database, mutually accessible to all parties involved, where transactions are recorded in a way that cannot be undone or changed. This makes possible any type of operation, from the exchange of sensitive documents, such as contracts, to the transfer of money.
Marine Transport International estimates that blockchain could save $300 per container in terms of labour and processing associated documents. For one ultra large container ship, which carries up to 18,000 containers, the savings amount to $5.4m.
It can also help with cyber security. In June, Maersk was one of the victims of a global ransomware attack, which caused outages at its computer systems across the world and cost the company $300m in lost profits in the third quarter of this year.
In the wake of the attack, TrustMe managing director Antony Abell argued that blockchain could have prevented the attack from happening. Despite the recent partnership with IBM, Maersk's blockchain capabilities are not yet fully fledged.
Testing blockchain at sea
The collaboration will see the two giants work within a network of shippers, freight forwarders, ocean carriers, ports and customs authorities to build the new global trade digitisation product, according to the companies.
Their partnership was recently revealed to reach even further, after IBM signed a Memorandum of Understanding (MoU) with ocean shipping carrier Pacific International Lines and port group PSA International, two of Singapore's key traders. This marks a huge step: Pacific International Lines represents the 12th largest container shipping company in the world, while the port group handled 68 million twenty-foot equivalent units (TEUs) in 2016.
A number of other, separate trials have already helped make the case for this technology in shipping.
Damco, Maersk's supply chain solutions company, shipped flowers from Kenya, oranges from California, and pineapples from Colombia to the Port of Rotterdam, with the shipment transactions logged via blockchain.
"Sharing data unreservedly is also something that still makes many companies feel apprehensive."
The Port of Rotterdam, Europe's largest shipping port, is taking part in its own logistics consortium that will test sharing information via blockchain over the next two years.
Similarly, neighbouring port of Antwerp in Belgium has partnered with tech firm T-mining to work on a pilot project using blockchain technology to make container handling at the port more efficient and secure.
Meanwhile, an EU-funded project, SmartLog, also demonstrated the technology in June in Estonia's largest cargo port, Muuga Harbour, when the journey of ten sea containers was tracked and shared through data points submitted into the blockchain database by ten different companies.
The industry is venturing forward: but how fast?
Right now, blockchain's application in shipping is in the early stages.
Writing for risk management company Marsh's latest report 'The Edge of Risk', CEO of Marine Transport International Jody Cleworth highlighted remaining fears, such as the fact that blockchain could "dehumanise the process of buying, selling and perhaps operating".
While this is less likely to stand in the way of widespread adoption, care must be given not to create social economic issues in developing countries where jobs might be replaced by automation, Cleworth argues.
Sharing data unreservedly is also something that still makes many companies feel apprehensive, which might limit blockchain's popularity.
Indeed, challenges still remain, and blockchain technology, as revolutionary as it is poised to be, still needs to be fully understood and proven before we can expect wide-scale adoption – but so far, the benefits seem to be speaking for themselves.