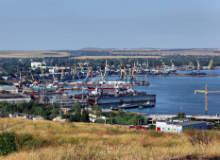 Two years ago, the Crimean peninsula was at the centre of the crisis between Russia and Ukraine, a conflict that forced strong international retaliation and had serious repercussions for the financial, energy, defence, trade and transport sectors.
In March 2014, following the ousting of the Ukrainian President and one day after the Crimean Parliament declared its independence, Russia annexed the internationally recognised Ukrainian territory of Crimea. The move sparked a global outcry and was considered illegal by the majority of the members of the United Nations, bar six.
On its part, Ukraine declared the annexation to be a violation of international law and agreements with Russia and, on 16 June 2014, the Ukrainian government ordered the closure of Kerch, Theodosia, Sevastopol, Yalta and Evpatoria ports to international shipping.
Ukraine's directive was doubled by a set of tight sanctions from the European Union (EU) and the US, some of which were specifically aimed at restricting shipping and trade off Crimean shores.
"Ship operators trading to Ukraine, and particularly to the ports in the newly annexed Crimea, now face a potential problem of falling foul of International [and] European law on the one hand and Ukrainian law on the other," explained international law firm Ince & CO in an article at the time.
Two years on, despite the fact that legal pitfalls surrounding operations in Crimean ports have only deepened, a Lloyd's List investigation revealed that shippers are routinely defying political and economic sanctions put in place, as well as the threat of imprisonment, in order to continue to do business in the area.
Ukrainian port closures and EU sanctions
Ukraine and the Crimean Peninsula line the northern coast of the Black Sea, one of the most important shipping routes for agricultural products, especially wheat and corn supplies farmed predominantly in Crimea. Before the crisis, the peninsula accounted for 3% of Ukraine's gross domestic product.
Following the annexation, the Ministry of Infrastructure of Ukraine retaliated by issuing Directive No 255, "On Closure of Sea Ports", banning international shipping from five of Crimea's biggest ports. The closure came into force on 15 July 2014, stipulating that vessels that call at these ports will be in breach of Ukrainian Legislation on Occupied Territories.
Although there had been no indication that any of the ports posed any actual danger, Ukraine said at the time it could not guarantee the ports' safety. By contrast, The Russian Federation said that it could guarantee the ports' safety and it was "assumed that it [would] undertake its obligations under the Black Sea MOU, ISPS and SOLAS, as it would in respect of any other Russian port", in a document released by Ince & Co.
Although some repercussions of breaching the ban are fairly mild, such as fines of between $30 and $425 per person, the country's criminal code stipulates that individuals risked imprisonment of up to eight years if the breach was deemed to have caused "commercial losses to the Ukraine".
"The EU imposed a set of travel bans, economic sanctions and asset freezes."
Soon after the ban came into effect, in March 2015 Ukrainian authorities arrested Turkish-owned cargo ship Kanton and detained her captain over a visit to the port of Sevastopol less than a year prior. The Tuvalu-registered 5,095 deadweight ton (dwt) Kanton, owned by Master Shipping Ltd, was held in the Ukrainian port of Kherson, and its crew faced a three to five-year jail term. As of February 2016, the situation surrounding Kanton and her crew had not been updated.
The ship in question is just one of 105 foreign vessels listed by the Maidan of Foreign Affairs as having "violated EU sanctions imposed on sea ports in Crimea", and who are now facing arrest and prosecution, heavy fines, confiscation and imprisonment.
More recently, in February this year, Ukraine's SBU security service announced the blacklisting for three years of foreign seafarers who have visited Crimean ports.
"In connection with the violation of the procedure for the entry into and exit from the temporarily occupied territory of Ukraine [Crimea], such foreigners will not be able to visit Ukraine for the next three years, including as part of crews of other ships," the SBU said in a statement.
On top of Ukraine's own restrictions, the EU imposed a set of travel bans, economic sanctions and asset freezes, which include the ports of Sevastopol and Kerch.
"The effect of these ports being added to the asset freeze list," global law firm Norton Rose Fulbright explains, "is that, broadly speaking, no company may carry out any trade or transaction which would result in a financial benefit accruing to the port."
The sanctions culminated with Regulation 692/2014, enforced in June 2014, which prohibits the import into the EU of goods originating from Crimea or Sevastopol.
The prohibition includes all ship managers based in the EU maritime hubs regardless of the flag of the vessel and the country of registration. Under EU law, each individual member state decides on what the penalties are for breach of the sanctions.
Why are European shippers taking the risk?
Despite the serious repercussions, it seems that some European shippers are not only continuing their business as usual, but indeed more calls were made at Crimea's ports following their closure.
These were the findings of the Lloyd's List investigation titled "Turning a blind eye in Crimea", reported by Helen Kelly and Gary Howard.
Lloyd's List Intelligence data shows that for the full year 2015, vessel calls to closed Crimean ports have ballooned by more than 50% since the sanctions were introduced in 2014. Vessels with links to Germany, Greece, Italy, the UK, Bulgaria, Cyprus, Denmark, the Netherlands, Estonia and Lithuania stopped at the peninsula's ports. Greek-owned vessels came in first, registering 275 calls throughout the year.
The investigation began after Lloyd's List was approached by a Turkish trade finance bank asking for advice on what business it could, and could not, do in Crimea.
According to the findings, the five closed ports received 4,150 calls in 2015, up from 2,002 calls in 2014 when sanctions were first introduced.
The general attitude was possibly best epitomised by a German shipowner's question to Lloyd's List: "Can the Ukrainian government tell me where I can and cannot go with my vessel?"
"The five closed ports received 4,150 calls in 2015, up from 2,002 calls in 2014 when sanctions were first introduced."
However, while the number of stops has spiked, the number of registered dwt has plummeted, with only 6.9m dwt calling at Crimea in 2015, compared with 14.1m dwt in 2014 and 27.15m dwt in 2013.
This drop in tonnage could be attributed to higher frequency calls by smaller Russian vessels "where other countries have avoided the ports", Lloyd's List Intelligence commercial development director Daryl Williamson told Lloyd's List.
The maritime information service offers a few possible explanations as to why the Crimean ports ban is difficult to enforce and regulate.
"Lloyd's List discovered that sanctions regulation is highly complex and difficult to enforce, particularly with a country like Russia, which is deeply embedded in international trade", an article on their website reads. "Many EU member states oppose the sanctions, claiming it hurts their own economies more than Russia's and would prefer to open a political dialogue instead."
"Even those countries that do support sanctions have little will to enforce them in the maritime space."
Moreover, a former head of maritime policy in the UK told Lloyd's List that trade with Ukraine and Crimea, "was not of high enough value for the authorities to consider policing".
But a more straightforward answer to why shippers are willing to take the risk could be profit.
Russian Maritime Bulletin journalist Mikhail Voytenko writes about an exchange with a "well-known Russian shipowner", who, when asked why he is exposing himself to the risk, replied simply with: "Do you know, Mike, how profitable it is?"
"Crimean shipping is a very profitable business," Voytenko writes, "all the more so, if looking at [the] shipping crisis around. Whatever the risks, the rewards, for some owners, are outweighing them."
The disruption to the shipping sector and advice for shippers
Nevertheless, apart from the rogue traders, the sanctions have indeed caused significant disruption for the international shipping sector.
Apart from the corn, wheat, gas and steel industries, in which Ukrainian trade played a large part, the cruise industry also suffered a blow after MSC Cruises and Costa Cruises withdrew their voyages to Yalta and Sevastopol in 2014.
Similarly, tourism firm All Leisure Group has suffered from the crisis, pulling their Black Sea cruise itineraries to Crimea and accruing financial losses as a result.
A number of law firms have published their own guidance on how to tread carefully around EU and Ukrainian sanctions.
Norton Rose Fulbright advises that it must be determined whether the equipment, technology or product being transported is covered by the sanctions, "a difficult task for shippers".
"Shipowners should exercise caution when entering into charter parties with Russian entities."
New trade agreements should also be deferred until a full inquiry into company structures, shareholdings and management are carried out. In particular, the firm says, "shipowners should exercise caution when entering into charter parties with Russian entities and checks should be carried out to ensure that the counterparty is not subject to an asset freeze".
Considering this is a dynamic and ongoing crisis, players in the shipping industry should be at all times aware of any changes and updates in restrictions and sanctions.
As Inco & Co lawyers point out, "anyone considering trade to or from Crimea and Ukraine should closely monitor the political developments in this area."