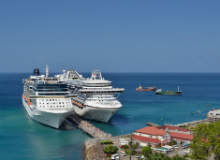 Over the past few years, globalisation, simmering geo-political tensions, bouts of highly contagious disease, raging armed conflicts and mass migration have drastically changed the risk dynamic in many parts of the world.
Extensive media coverage of each tragedy has also ensured that we now perceive these risks more acutely than ever before.
Research from travel risk management organisation Anvil Group shows that in the past two years, the number of major global incidents was three times the total in each of the five previous years.
At the same time, we travel more. Last year, there were more than 22 million passengers aboard cruise ships worldwide, making the $39bn industry the fastest-growing sector in the leisure travel market.
This burgeoning consumer interest in cruising contributed to the total visits to high-risk areas that took place last year. The Collinson Group notes that in the first half of 2015, almost 2.5 million visits were made to destinations that experienced level three security incidents, which include coups and terrorist attacks, compared to only 1.6 million during the same period in 2014.
"I think there are new risks available now that weren't present before, because of the way the world has changed and got bigger over time," says Anvil Group managing director Matthew Judge. "We only have to look at the issues across the Arab Spring, or remember the incidents from a short while ago in Tunisia or Brussels. While these are not specific to the cruise industry, they serve as examples of issues that have impacted travellers."
Due to these incidents and the intense media coverage that followed, the individual traveller is now far more risk-aware than before.
This puts increased pressure on cruise liners, who have a legal obligation to warn their passengers of any foreseeable dangers not only on board, but also at their ports of call around the world.
Changing expectations: passengers demand higher protection
Is there more risk now than there ever has been before? Judge is not convinced, but what he does know, he says, is that "more people are travelling today and therefore when certain situations occur, they impact more people".
One of the key aspects in this shifting pattern of risk is our heightened awareness.
"Because of the explosion of social media, digital marketing and a number of other factors, we are immediately more aware in real time when incidents occur that impact travellers in general," Judge explains.
Indeed, concerns about travellers' well-being are so great that they permeated into the business sector. A survey of 580 European buyers for American Express' 2016 Global Business Travel Barometer showed that safety is the number one concern for buyers in 2016, superseding cost control and traveller satisfaction.
"Safety is the number one concern for buyers in 2016."
This will undoubtedly impact demand for certain destinations and could change popular cruising routes, depending on where incidents occur. At the moment, the Caribbean still holds the crown as the most popular cruise destination, followed by the Mediterranean, but Judge notes: "The Caribbean and Mexico have been very popular destinations for cruise liners, with individuals drawn by the pictures of clear, see-through water and white sandy beaches. But the reality of what they face when they disembark there is sometimes very different to the tranquil pictures that they see on their brochures."
For the time being however, travellers themselves do not yet go to any considerable lengths to prepare ahead of their trips. Out of approximately 2,000 global senior executives polled by Ipsos Mori, 44% research vaccination requirements, 41% look into crime levels at their destination and 33% determine whether there are neighbourhoods to avoid. At the same time, only 24% of companies offer safety training to their travellers ahead of their journeys.
Instead, it seems that passengers have higher expectations from their travel operators.
"People's expectation is that their tour operator and their cruise line operators will undertake a much higher level of duty of care, security and risk management awareness than they had done in the past," Judge says.
Legal matters: where do the boundaries lie?
The cruise sector's responsibility falls under something known as duty to warn, a concept emanating from an area of tort law. The duty to warn can be defined as the "requirement that if there is a known and foreseeable risk, a company has a duty to communicate it, otherwise it will be held liable for any injuries that result from that risk".
Cruise lines have been famously brought to court in multiple cases over the past 36 years. A particular bone of contention has been their duty to warn of dangers in ports of call, after passengers have already disembarked the vessel.
The first case to set a legal precedent that would change the duties of the cruise industry was the 1985 Carlisle v. Ulysses Line LTD.
Five years prior to the legal battle, in November 1980, four passengers travelling aboard the S.S. Dolphin disembarked at Nassau, one of the two ports of call during their four-day cruise. The party were returning from a nearby beach, which they had visited at the advice of the ship's activities director, when their jeep was ambushed by three masked men armed with shotguns who opened fire.
"Cruise lines have been famously brought to court in multiple cases over the past 36 years."
All four travellers were wounded and one tragically died from a gunshot wound to the head. Following the incident, it was revealed that both the ship's crew and other tourists had been previously attacked in the area, which had also been described by the local police forces as "very bad".
"This was one of the first cases that set this legislation out properly," Judge says. "Essentially, it said that a cruise line has a duty to warn of known dangers beyond the point of debarkation in places where passengers are invited or reasonably expected to visit.
"The important thing about the decision was that the court drew a distinction between point-to-point travel, which is normally offered by an airline, and a cruise holiday where the cruise line advertises and profits from the ports of call."
This decision resurfaced in 2010 in a legal case against Carnival Cruise, regarding the death of a 15-year-old passenger who was caught in the middle of a gang-related gun-fight while vacationing with her family in the Virgin Islands. Although the family had strayed away from the itinerary suggested by Carnival, the Eleventh US Circuit Court of Appeals reaffirmed that the cruise line is to be held liable for their failure to warn of any "foreseeable" dangers while off board.
"That's one of the big distinctions here," Judge says. "Traditionally, cruise liners only thought [they were liable] until the passenger disembarked their vessel, but actually they have a greater and more extensive responsibility overall."
Cruise industry urged to be more "risk-aware"
Given the circumstances, what can, and should, cruise lines do to ensure the safety of their passengers?
In their March 2016 report "A world of risk, a world of opportunity", Anvil provides a six-point duty to warn checklist.
In preparation, operators should get the necessary information needed to assess the dangers, keep staff informed and provide guidance on how the risk can be treated and mitigated. At the same time, due to the dynamic and unexpected nature of many threats, they should also be prepared to communicate and deal with people who could be affected quickly and effectively, monitor developments and be fully prepared to change approach if necessary.
"Essentially, they will need to have systems that keep them informed about the dynamic threats and situational awareness," Judge says.
"In the risk management industry, we call that 'intelligence briefings', where you do something called 'horizon scanning' for countries and areas of interest and analyse what the main and emerging threats are in that area.
"Such as a general election within a country and what will happen should another regime come into power, as opposed to one that's currently in power. That's a classic example of when you're looking to see what could happen in the future."
"In preparation, operators should get the necessary information needed to assess the dangers."
Overcoming these challenges serves as yet another example of how technology can prove a useful tool in keeping one step ahead of the game.
Aside from the traditional ways of communicating with passengers, such as disembarkation briefings, Judge suggests producing electronic documents, or providing passengers with an app which allows them to communicate knowledge of any known perils as they get close to different disembarkation points.
"I think in this day and age there's a lot you can do to educate your passengers, with smartphones, tablets and wireless networks. Anvil has a number of tools and services that can assist with that, should any shipping organisations and tour operators need it," Judge says.
"Obviously you need to learn to communicate that in a non-alarming way, but also help people become fully aware of the main threats so they can take steps to avoid them."