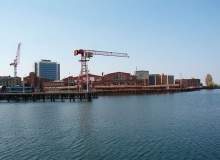 German navigation system maker Raytheon Anschütz will debut its new shipborne security solution, ShipGuard, at SMM 2014 fair, to be held between 9 and 12 September in Hamburg, Germany.
The company developed this new system considering the increasing demand for security of merchant ships and maritime trade.
ShipGuard's design is centred on the company's Synapsis system and can be configured and integrated with individual components for customised results.
The European Union's (EU) general affairs council launched new legislation that allows shipping industries to coordinate and improve their maritime activities.
The new legislation, maritime spatial planning (MSP), is designed to improve environmental standards in Europe and create a safe link between coastal and maritime activities.
Each relevant EU member state must now transpose the directive into their national legislation and nominate a competent authority in charge of its implementation by September 2016.
Indonesia-based Pelayaran Bahtera Adhiguna selected American Bureau of Shipping (ABS) to class its compressed natural gas (CNG) vessel, which is claimed to be the first of its kind in the world.
Designed by China's CIMC Ocean Engineering Design & Research Institute, the CNG carrier will be built by Qingdao Wuchuan Heavy Industry at its shipyard in northern China.
ABS signed a memorandum of understanding (MOU) with the Maritime and Port Authority of Singapore (MPA) to promote maritime research and development (R&D) and innovation.
Under the terms of the agreement, the companies will partner on maritime R&D in the areas of alternative / clean fuel and developing resilient, next-generation port systems over the next five years.
In addition, the signatories will commit to promoting and sharing maritime thought leadership on technology.
The wrecked Italian cruise ship Costa Concordia successfully completed its four-day, 280km final voyage to the port of Genoa for scrapping.
The vessel was refloated nearly two-and-a-half years after it capsized on the Tuscan island of Giglio. Its removal is said to be the biggest maritime salvage attempt to date.
Costa Crociere, the operator of Costa Concordia, estimates the scrapping operation will cost €1.5bn.
The British Marine Federation (BMF) estimated that the UK marine industry, along with other expenditure associated with boating, contributed £6.2bn to the national economy in 2012 to 2013.
According to BMF's Economic Benefits of the UK Boating Industry report, the expenditures supported approximately 141,000 full-time jobs and contributed more than £5.3bn to the gross value added.
Marine propulsion system provider GE Marine and classification society Lloyd's Register are collaborating on a study of potential gas turbine-powered commercial ship projects.
The companies signed a memorandum of understanding (MoU) to this effect.
The agreement follows a previous announcement by GE Marine, Dalian Shipbuilding Industry and Lloyd's Register in December 2013.
The ship classification society DNV GL is set to initiate a joint industry project (JIP) to study and understand the risks associated with an accidental liquefied natural gas (LNG) release during bunkering operations.
The JIP will be carried-out in partnership with E&P, energy companies and LNG market stakeholders to support the development of appropriate safety guidelines.
Saab" height="151″ src="https://www.ship-technology.com/wp-content/uploads/image-digitalinsightresearch/Archive/Main/Saab1.jpg" style="padding: 10px; float: right" width="200″>Defence major Saab completed the acquisition of the Swedish shipyard ThyssenKrupp Marine Systems.
Formerly known as Kockums, the shipyard is a part of the industrial solutions business of ThyssenKrupp. It provides systems for non-nuclear submarines and high-end naval vessels.
The newly acquired Saab Kockums will become a business unit within Saab's security and defence solutions business.
The deal, which is valued at SEK340m, is aimed at strengthening Saab's position in the naval segment.
The European Space Agency (ESA) unveiled plans to enhance the identification and tracking of seafaring vessels anywhere on earth through satellites, by 2018.
The agency signed a public-private partnership agreement to this effect with Luxembourg-based LUXSPACE and Canada-based exactEarth for the development of a microsatellite.
Under the deal, LuxSpace will design and build phase-B2/CD of one SAT-AIS microsatellite, while exactEarth will be responsible for the mission definition, ground segment, launch and operation.
Hyundai" height="133″ src="https://www.ship-technology.com/wp-content/uploads/image-digitalinsightresearch/Archive/Main/Hyundai1.jpg" style="padding: 10px; float: right" width="200″>South Korea's Hyundai Heavy Industries (HHI) developed a new ship collision avoidance system named Hyundai intelligent collision avoidance support system (HiCASS).
The system will help ships detect potential vessels and other obstacles up to 50km and search for the optimum sea route.
The shipbuilding firm said that it will commercialise the system from 2016 as it wants to test its stability on long-distance routes.