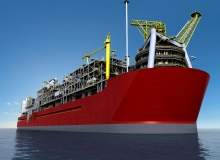 While the scale of damage resulting from the major earthquake in Japan in March 2011 and the resulting tsunami almost lead to a nuclear crisis which could not have been foreseen, often good business is simply about being lucky enough to be in the right place at the right time.
With fuel-for-power hungry Japan's imports of LNG surging nearly 18% to more than six million metric tons in October 2011, compared to the same period in 2010, and other nations, especially in the Asia Pacific region demanding the fuel too, Shell's decision to go ahead with the world's first floating liquefied natural gas facility (FLNG), the Prelude FLNG, looks to be timed almost perfectly.
A Prelude to the golden age of LNG
"Shell's decision to go ahead with the world's first floating liquefied natural gas facility (FLNG), Prelude, looks to be timed perfectly."
Of course, projects such as Shell's Prelude FLNG take a lot of planning and Kim Blomley, Shell spokesperson, said Shell had been working on the project for decades and the decision to go ahead was not a reaction to the earthquake in Japan.
"There were about 1.6 million man hours just on the front-end engineering and on the design phase and development," said Blomley.
"The idea was to front load this project to ensure that we got it right first time around. With the idea being that once we got all the technical side of this operation up and running we would then look to design one, build many."
The Prelude field, where the FLNG vessel will be deployed, is located around 200km off the northwest coast of Australia where Shell's 488m by 74m craft, weighing around six times more than that of the largest aircraft carrier, will be capable of producing 3.6 million tons per annum (mtpa) of LNG, 0.4 mtpa of liquefied petroleum gas (LPG) and around 1.3mtpa (approximately 35,000 barrels a day) of condensate.
The LNG production alone is enough to supply all of Hong Kong's annual needs for natural gas. Blomley said Shell had designed the Prelude FLNG "within a ten-year time frame. We discovered the gas field in 2007 and we're looking at production in 2017."
Taking LNG seriously
The phrase 'game changer' has been attributed to almost every new energy technology and discovery yet but, in the case of LNG, it might just be appropriate. Shell is certainly taking LNG very seriously indeed.
"By next year (2012) we (Shell) will be producing more gas than oil," said Blomley. "Shell believes that the long term demand for LNG is continuing to grow."
Certainly the company has been in the LNG business for a long time. "We've been delivering LNG cargoes from Brunei, for example, to Japan for 50 years," said Blomley, who confirmed that Shell had delivered more than 5,000 LNG cargoes safely.
The numbers tell the story, as in its last quarterly figures, Shell said LNG was helping to drive company profits. "We're virtually citing it (LNG) now as a particular growth part of our business," said Blomley.
Shell has not released any information about the cost of Prelude FLNG and it looks like there will be more FLNG vessels to follow it.
"Absolutely, there certainly will," said Blomley. "Design one, build many. That's where we're (Shell) looking to be. You don't spend all this time money and effort on just one ship as you're not going to get the economies of scale."
Despite its enormous size, Prelude FLNG will actually be a compact plant when compared to an onshore facility, which would need to be four times larger to do the same job.
"The integration of technology and the way that it has been arranged and organised on the vessel demonstrates the complexity that they've (the designers) been able to work with," said Blomley. With the FLNG vessel being capable of sitting on a field and then moving between reservoirs of natural gas, which would never would be viable for a rig to be constructed upon, the small but easy to reach natural gas reservoirs will be back on the exploitation map.
FLNG – Shell's league of its own?
Shell's project is literally in a league of its own right now. However, the LNG has to reach the marketplace and the makers of giant super LNG tankers are working hard to maintain the current growing order books.
Recently Hyundai Heavy Industries (Hyundai) said it had won an order worth US$400m for two 228m long LNG carriers for BW Maritime with the option to build two more. The giant Korean shipbuilder says it constructed the world's first LNG-floating storage regasification unit in June 2011 and has, since 2010, been designing a special welding system for the thick aluminium plates that are used in LNG tanks.
"Despite its enormous size, Prelude FLNG will actually be a compact plant when compared to an onshore facility."
Similarly, another Korean mega ship builder Samsung Heavy Industries (Samsung) is heavily into LNG and is working with Shell.
The company said that in September 2011 it had designed the first membrane-type cargo hold for LNG tankers. In July 2011 the company said its shipbuilding order book stood at US$14.2bn compared to a target of US$11.5bn.
Part of that order book is US$3bn from Shell for what Samsung says is the world's first and largest LNG-FPSO (Floating Production Storage and Offloading) for delivery to the Prelude field in Australia. While Shell has not released any cost figures for the Prelude FLNG project at least there appears to be a starting point of at least US$3bn and, if all goes well with Samsung's vessel, many more will follow.
LNG has been around for a long time and only recently has the product attracted more interest. For companies like Shell, which has seemingly guessed the market correctly, there is a great opportunity.
However, with LNG import, export and transportation vessels needing enormous investments and taking years to build, other companies and even governments wanting to cash in may run the risk of missing the sweet spot of the market or worse hitting any downswing. Nevertheless, for the short-medium term future at least, it would appear that we will see many more LNG leviathans.