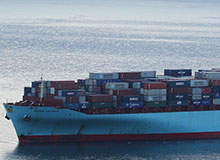 A.P. Møller-Maersk – 2.8m TEU
Danish company A.P. Møller-Maersk's container shipping division Maersk Line operates a fleet of 580 container vessels making it the world's biggest shipping company. The fleet includes 272 Maersk-owned vessels with a combined capacity of 1.7m TEU and 308 chartered vessels with a combined capacity of 1.1m TEU as of September 2014.
Møller-Maersk, founded by Arnold Peter Møller in April 1904, is headquartered in Copenhagen, Denmark, and employs 88,909 people in 135 countries. It earned revenues of $47.39bn in 2013 and $35.85bn in the first nine months of 2014.
Mediterranean Shipping Company – 2.43m TEU
Mediterranean Shipping Company, based in Geneva, Switzerland, has an intake capacity of 2.43m TEU. Founded in 1970, MSC has a fleet comprising 471 container vessels. Its vessels call at over 316 ports worldwide and sail on more than 200 international trade routes.
The privately-owned shipping line operates in 150 countries and employs more than 24,000 people.
CMA CGM – 1.55m TEU
CMA CGM Group, France's leading container shipping company, operates a fleet of 428 vessels with a combined capacity of 1.55m TEU. The containers sail on 170 shipping routes, serving 400 commercial ports worldwide.
CMA CGM Group was formed when Compagnie Maritime d'Affretement (CMA), founded by Jacques Saadé in 1978, acquired Compagnie Generale Maritime (CGM), a state-owned company that was privatised in 1996. The shipping line has presence in 150 countries, employs more than 18,000 people and earned revenues of $15.9bn in 2013.
American President Lines (APL) – 1.1m TEU
American President Lines, headquartered in Singapore operates a fleet of 150 vessels with a combined capacity of more than 1.1m TEU. APL's containers have been spanning the world's major trade lanes for the last 165 years. The shipping conglomerate provides more than 80 weekly services across 95 countries and also facilitates inland reach through intermodal networks.
APL was incorporated in 1848 in the US as Pacific Mail Steamship Company, which was bought by Neptune Orient Lines (NOL) in 1997.
Hapag-Lloyd.jpg" alt="" width="600″ height="400″>
Hapag-Lloyd – 1m TEU
German shipping company Hapag-Lloyd merged with Chilean firm Compañía Sud Americana de Vapores (CSAV) in December 2014, which increased the conglomerate's fleet size to 200 vessels with a combined capacity of one million TEU – the world's fifth biggest.
Approximately 100 liner services operated by Hapag-Lloyd merged with 40 services provided by CSAV across 112 countries. Hapag-Lloyd was founded in 1970 with the merger of Hamburg America Line or Hapag and North German Lloyd, both established in mid-1800.
Evergreen Line – 850,000 TEU
Evergreen Line, a containerised-freight shipping company based in Taiwan, operates more than 190 ships with a combined carrying capacity of approximately 850,000TEU.
Evergreen Line is a brand name established in 2007 to include five shipping companies within the Evergreen Group, namely Evergreen Marine Corp. (Taiwan), Italia Marittima, Evergreen Marine (UK), Evergreen Marine (Hong Kong) and Evergreen Marine (Singapore). The global carrier covers 114 countries and its busiest trade route is between the Far East and North America.
COSCO Container Lines (COSCON) – 786,252 TEU
COSCO Container Lines or COSCON, a container transport company owned by China Ocean Shipping (Group) Company (COSCO), operates a fleet of 173 container vessels with a total capacity of up to 786,252 TEU as of December 2013.
Founded in 1997, COSCON operates in more than 162 principal ports across 49 countries and employs 13,895 people. It is one of the world's biggest dry bulk carriers and has operations across 84 international shipping routes, 23 international feeder routes, 23 routes along coastal China and 79 routes in the Zhu Jiang delta and the Chang Jiang River. It reported revenues of $7.85m in 2013.
China Shipping Container Lines – 706,000 TEU
China Shipping Container Lines (CSCL), based in Shanghai, operates 156 vessels with a total capacity of 706,000 TEU. An affiliate of China Shipping Group, CSCL was founded in 1997 and employs 7,000 people. Its fleet includes the world's biggest container ships CSCL Globe and CSCL Pacific Ocean, which have a capacity of 19,100 TEU each.
CSCL vessels connect to 180 ports across 60 countries and regions, and sail on 80 international and domestic trade lanes. The company also offers feeder network covering South China, North China, Yangtze River Delta region and South East Asia.
Hanjin Shipping Company – 640,348 TEU
Hanjin Shipping, South Korea's biggest container carrier service, owns a fleet of 170 containerships and bulk carriers. Its container fleet has a capacity of 640,348 TEU, including 291,370 TEU for the 41 owned container vessels and 348,978 TEU for the 63 chartered-in vessels. The vessels call at more than 90 ports in over 35 countries and have 13 container terminals in major ports.
The shipping company, founded in 1977, reported revenues of $9.02bn in 2013 and employs approximately 5,800 people globally.
Mitsui O.S.K. Lines- 513,000 TEU
Mitsui O.S.K. Lines (MOL), established in 1884 in Tokyo, operates 119 containerships with combined capacity of 513,000 TEU, while the individual capacity of the vessels ranges from 700 TEU to 8,000 TEU.
Originally founded as OSK Lines, the company merged with Mitsui Steamship in 1964 to form MOL. It also operates coastal liners, LNG carriers, tankers, cruise ships and ferries, and reported $16.8bn in revenues in 2013.