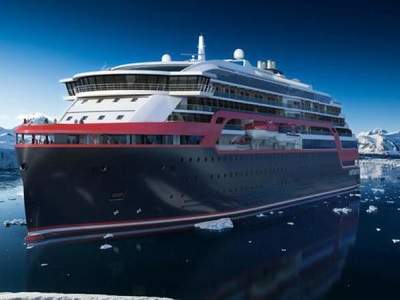 Rolls-Royce won a deal to provide environmentally sustainable hybrid technology for two new expedition ships, to be operated by Norwegian explorer cruise line, Hurtigruten.
As part of the deal, Rolls-Royce will also provide automation and control systems, azipull propellers, two large tunnel thrusters, stabilisers, four Bergen B33:45 engines, winches and power electric systems.
To be designed by Rolls-Royce, MS Roald Amundsen and MS Fridtjof Nansen will be constructed in Norway's Kleven Yard.
The Ghana Ports & Harbours Authority (GPHA), along with Meridian Port Services (MPS) and its partners Bolloré Transport & Logistics and APM Terminals, started expansion work on Tema Port.
To be developed with a $1.5bn investment, the expansion is scheduled to be completed by the end of 2019.
To be conducted under a 35-year concessionary agreement, the expansion project has been funded by International Finance (IFC).
Finnish shipping company Viking Line entered a letter of intent (LoI) with China's Xiamen Shipbuilding Industry regarding an order for a new liquefied natural gas (LNG)-powered passenger vessel.
Both companies are planning to finalise the deal by next year.
The recently signed LoI also includes the option for an additional vessel.
UK-based equity firm Apax Partners completed the acquisition of the Telemar Group to merge it with Marlink, creating a major player in the maritime sector.
A new Maritime Group has been established to provide broadband communications, digital solutions, bridge electronics and on-board maintenance to the maritime industry, including shipping, offshore, cruise and ferry, yachting, and fishing.
Announced in August, the new Apax Partners Maritime Group will generate $450m in revenue, with more than 800 employees worldwide.
Finnish company Konecranes finalised a $217m deal with the US Port of Virginia to build and deliver 86 rail-mounted automated stacking cranes (ASCs).
Of the 86 specialised cranes, 60 will be installed at the port's Norfolk International Terminals (NIT), while the remaining 26 will be installed at Virginia International Gateway (VIG).
Delivery of the cranes is scheduled to begin by 2018, with plans to complete by 2020 in a phased manner.
Taiwan's ministry of transportation and communications is set to provide TWD560bn ($17.57bn) in aid for the country's struggling shipping industry.
The ministry already submitted its plan to China's Central Government, Executive Yuan, for final approval.
Once approved, the fund will be used to support the local shipping industry, which has been suffering a global slowdown.
The Netherlands Port of Rotterdam Authority (Port Authority) entered a joint venture agreement with Indonesia's state-owned Pelindo 1 to construct a new port, Kuala Tanjung.
The new port will be located on the Strait of Malacca, near the Indonesian island of Sumatra.
Both Port Authority and Pelindo 1 are expected to jointly make an investment decision required to develop the new port.
The European Commission (EC) granted a conditional approval to the proposed merger between German container shipping line Hapag-Lloyd and UAE-based United Arab Shipping Company (UASC).
The condition includes UASC's withdrawal from a consortium on the trade routes between Northern Europe and North America, NEU1, where the merged entity would have faced insufficient competitive constraint.
However, Hapag-Lloyd has proposed to terminate UASC's participation in the NEU1 consortium.
UK-based Martek Marine's drone division secured a framework contract from the European Maritime Safety Agency (EMSA) to monitor pollution in European rivers and seas.
As part of the deal, Martek Drones will use its 2m-long drones up to 50km offshore to measure the levels of sulphur and carbon dioxide (CO2) emitted from the exhausts of commercial ships.
The drones will be equipped with visible light and infra-red cameras, as well as various other sensors.
A new container terminal, Liverpool2, opened at the UK's Port of Liverpool, which was constructed with a £400m investment.
Opened with investments made by the port's operator, Peel Ports Group, Liverpool2 will offer an ocean gateway for UK importers and exporters with road, rail and canal connections linking directly to the heart of the UK mainland.
Liverpool2 will complement the Port of Liverpool's existing Royal Seaforth container terminal and will mainly handle mega ocean-going container ships.