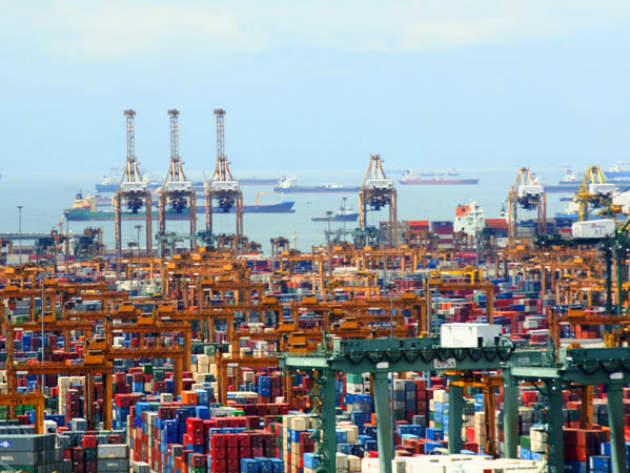 Singapore's key position at a crossroads of seaborne trade makes it the port of call for more than 130,000 vessels totalling some 1.5 billion gross tons every year, with a ship arriving or leaving the country every two to three minutes.
Today, Singapore's maritime industry contributes about 7% to the country's GDP, and has been credited with helping the Republic develop into a first world economy.
It is no surprise, therefore, that the Maritime and Port Authority of Singapore (MPA), first established in 1996, is dedicated to advancing the sector's capabilities for the future, in keeping with its main mission to "develop Singapore as a premier global hub port and international maritime centre."
During the Singapore Maritime Week in April, MPA signed five Memorandums of Understanding (MoUs) with local industry partners, including container terminal operator PSA, Jurong Port and marine data company Alpha Ori, as well as international company Lloyd's Register.
Whether the MoUs renew older commitments or mark the start of new collaborations, the projects mark the port's commitment to stay at the forefront of maritime technological innovation.
Delivering the mega-port of the future
One of the MoUs, signed in cooperation with PSA, is an extension of the Port Technology Research and Development Programme (PTRDP), first signed between the two parties in 2011.
Since its inception, the programme has brought together technology providers and local institutes of higher learning to work on advancing technologies for Singapore's container terminals. A total of S$50m has so far been put into the programme to research and develop testbed projects on AGV systems, yard crane automation and wharf automation at Tuas Terminal.
"The Tuas mega-port is envisioned as a hub for maritime traffic."
Slated to open in phases between 2021 and 2040, the Tuas mega-port is envisioned as a hub for maritime traffic, complete with cafés, retail spaces and even a jogging track, all as part of a 150 hectare redevelopment. Upon completion, it will be able to handle up to 65 million twenty-foot equivalent units (TEUs) of cargo a year. According to The Economist, Singapore plans to move all its port activities to Tuas from 2027.
The innovation of port operations is also being pursued by the PSA through the PSA Living Lab, which was opened in 2016 as a "living laboratory in Singapore for the port and logistics industry."
The Lab enables start-ups and technology solution providers to collaborate with PSA and implement technologies such as artificial intelligence, data analytics, cloud computing, blockchain, augmented reality and video analytics in the live port environment at PSA Singapore Terminals. Close to S$100 million has been committed to the initiative over the next three years.
Jurong Port transformation
The second MoU marks the extension of another 2011 agreement, namely the Maritime Green Port and Productivity Solutions, which brings together MPA and Jurong Port (JP), a bulk, breakbulk and containerised cargo port located in south-west Singapore.
Jurong Port has served Singapore for more than 50 years as the main point of entry to the island state, and contributed to the development of Singapore's Jurong industrial estate. Today, its main terminal welcomes more than 15,000 vessels each year from both the region and internationally.
Under the new agreement, both MPA and JP allocated S$8m each towards developing data analytics, environmentally friendly solutions and safety and security provisions over the next five years.
The longstanding collaboration between the two entities led to the development of automated guided vehicles (AGVs), battery-powered vehicles that operate around the clock and are used to transport containers between the quay side and the container yard without human drivers.
In January, JP also launched a new skills academy, in the belief that "a technology-enabled workforce can move away from routine and labour-intensive tasks to focus on productive and higher value-added activities."
Ensuring the competitive edge
Efficiency and predictive maintenance are key to staying competitive, especially when Singapore is facing increased rivalry from growing neighbouring economies in south-east Asia, including Malaysia and Indonesia, which are investing in growing their own port facilities.
As a result, the third MoU signed with IT and engineering company ST Electronics will be looking into vessel traffic management systems, smart data analytics and autonomous operations and robotics.
It will particularly focus on smart data analytics, detecting "real-time anomalies" in performance, as well as satellite imageries to detect trends and patterns in shipping traffic.
"Singapore is facing increased rivalry from growing neighbouring economies."
In the same vein, a separate project signed with Alpha Ori, Lloyd's Register and the National University of Singapore's Technology Centre for Offshore and Marine (TCOMS) will be looking to open a Centre of Innovation for joint research in robotics and unmanned systems in port and shipping for operations, maintenance and inspections in hazardous zones, as well as maritime cybersecurity.
"These MoUs are in line with our efforts to take the maritime sector into its next stage of development, where data analytics, intelligent systems and the Internet of Things will open up new opportunities for our port operators," said MPA chief executive Andrew Tan.
"We believe the time is ripe to leverage new technologies to ensure Maritime Singapore stays ahead of the curve as a world class port and international maritime centre."