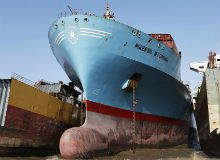 Rewind to March of this year and the Sustainable Shipping Initiative (SSI) held its second roundtable discussion to plot a way forward for sustainable ship recycling. The challenges are many. It is, said SSI CEO Alastair Fischbacher, a contentious and complex issue, "with diverse opinions on what should be done".
Nonetheless, it is one of those topics that people are keen to put their name to – after all who wouldn't want to be seen as responsible and sustainable in 2016? Such tags do no harm but, as Fischbacher outlined, it is by no means easy to change decades of bad practice and develop concrete plans that all can agree on.
"I think in general we are living in a world that is becoming more and more transparent," says Annette Stube, head of group sustainability at Maersk, which has recently committed to developing more responsible recycling options in Alang, India. "You would expect a backlash against non-responsible practices, whether that's in ship recycling, how we produce our clothes, or any other items that consumers are linked to."
Now there are indications that this backlash is igniting progress, despite the obvious difficulties and the scale of the problem.
Hong Kong Convention: setting global standards
Data from the NGO Shipbreaking Platform shows that in 2015, 768 large commercial vessels were sold to scrap. Of these, 469 went to substandard beach yards in India, Bangladesh and Pakistan. In the first quarter of this year, 239 were sold for breaking, 79% of which ended up on the same South Asian beaches.
Working conditions at the beach yards have long been a contentious issue, with concerns over labour rights, salaries and the potential fatal dangers that accompany the handling of hazardous materials. In January, World Maritime News reported the death of a 50-year-old man at the Bangladeshi Sitakunda Upazila yard, killed by a falling iron bar. The Shipbreaking Platform has documented seven fatal accidents at Bangladeshi yards in the first four months of this year. Serious injury is all too common, while the use of child labour has also been reported.
"The more clear and enforced regulation we have on this issue, the better."
"We need to bring down the accident rate and ensure that working conditions are safe," explains Patrizia Heidegger, Shipbreaking Platform executive director. "The industry deals with a large amount of hazardous waste that has to be taken care of, if not [it can cause] health hazards for local communities. It is considered to be one of the most dangerous [industries] in the world."
Enter the Hong Kong Convention (HKC), or, to give it its full name, the Hong Kong International Convention for the Safe and Environmentally Sound Recycling of Ships. This, in the International Maritime Organization's (IMO) words, is designed to "ensure that ships, when being recycled after reaching the end of their operational lives, do not pose any unnecessary risks to human health, safety and to the environment".
It currently has four contracting states – Belgium, Congo, France and Norway – but will only enter into force 24 months after 15 states have ratified it. The text of the HKC was developed over three years, with input from IMO member states and other external organisations, such as the International Labour Organization.
Once in force, ships sent for recycling will be required to carry an inventory of hazardous materials, while yards will be required to provide a recycling plan that demonstrates the way each ship will be recycled. However, Heidegger says the HKC is not tough enough. "The way the convention is structured does not really promise the change we are campaigning for."
Heidegger adds that it doesn't prevent shipbreaking "in the intertidal zone of the beach, that is, in an unprotected marine environment". In response, a spokesperson for the IMO says: "The HKC doesn't make any reference to the beaching method and implicitly does not ban or promote beaching.
"That said, the convention addresses the systematic prevention, reduction, minimisation and, where practicable, elimination of risks to human health and safety and to the environment through mandatory requirements on: worker safety and training; the protection of human health and the environment; emergency preparedness and response; and systems for monitoring, reporting and record-keeping."
EU regulations, but also voluntary campaigns
As well as the convention, there are European-level regulations, again demonstrating a growing understanding and willingness to at least attempt change.
The EU Ship Recycling Regulation – applying to large commercial vessels flying the flag of an EU Member State, as well as those ships that fly the flag of the third country and call at EU ports – entered into force in December 2013, and aims to restrict the use of certain hazardous materials on ships.
The European Commission is also establishing a European list of ship recycling facilities that it believes are responsible and meet the regulation's conditions. This means that shipowners who fly the flags of EU Member States will, therefore, have to ensure that their ships are only recycled at yards included in this list. All end-of-life ships will also have to be prepared for recycling.
Maersk's Stube welcomes the moves from the likes of the IMO and EU, but acknowledges that while the HKC waits for ratification and the European Commission draws up its list, voluntary agreements will be necessary.
"The more clear and enforced regulation globally that we have on this issue, the better," she says. "This is not something we should be competing on." But, as long as regulations are not in place, Stube believes "voluntary standards are second best".
An example of this is Maersk's work in India. The overarching aim is to upgrade selected yards in Alang to meet the company's self-set standards. This, says Stube, involves engagement "on the ground", following the work of the yards. "In our contracts we have a stop-work clause, so our person on the ground can stop the work if they see unsafe conditions," she explains.
Maersk announced in May that two container vessels – the Maersk Wyoming and the Maersk Georgia – will be the first to be recycled at the Shree Ram yard in Alang, which is certified to HKC standards. The company estimates that the extra cost of using such yards is $1-2m per vessel, demonstrating one reason why cheaper beach yards have flourished – they have been "feasible and the cheapest option," says Stube.
The Shipbreaking Platform, meanwhile, is running different campaigns at international, European and corporate levels. "You could say we have a very long-term policy campaign, which of course keeps changing as certain policies gets adopted, so the focus keeps moving," clarifies Heidegger, who also believes that the only way to erode the beach-yard supremacy is with a mix of voluntary commitments and legally enforceable regulations. "There's not one instrument that can solve the whole problem," she adds.
Collaboration: getting shipowners on board
Getting more shipowners to act now, and not tomorrow, is the ambition. "It is crucial that we get others on board," says Stube. To this end, Maersk has also declared plans to build a broad worldwide coalition. Stube explains that discussions are ongoing to devise "an industry move and change something that has really been a thorn in our side for decades". "We don't want to be part of an industry that is detrimental to the environment and the people working in it."
"Steady" improvement has been made, says Heidegger, but she also warns: "If you ask me if there's been a substantial change in the structures of the global shipbreaking industry, I'd say no. Some still sell their end of life vessels to intermediaries, who take them to substandard beach yards."
"In 2015, 768 large commercial vessels were sold to scrap."
Heidegger praises developments in China, which, she says has "really transformed itself into a very modern [industry], with probably some of the best facilities in the world". Again, though, it is the beach yards of India, and in particular Pakistan and Bangladesh, that represent the epicentre of woe for ship recycling.
Once something has become the norm, changing behaviour – especially if that change incurs a higher cost – is not easy. Cash buyers on beaches are able to offer a high price and take responsibility away from the shipowner. Therefore, the Shipbreaking Platform is advocating a financial incentive to encourage ship owners to choose clean and safe ship recycling, thereby potentially nullifying the gain of selling to beach yards.
It is very much a game of wait-and-see on all fronts. The industry will be forced to change as regulations take hold, although Stube cautions: "This is an open window but it may close. If we don't get enough shipping companies to support sustainable ship recycling, then why would a yard make investments that will never be honoured?"
The thorn may have loosened slightly, but this decades-old concern will take decades to solve.