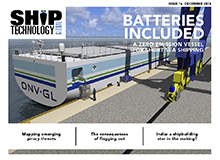 As operators and authorities ramp up security in pirate-prone regions, pirates turn their attention to new targets. We chart recent incident data on an interactive map to find out how new threats is evolving and take a look at the latest in non-lethal counter piracy technology.
We also investigate how the growing trend of European operators flagging out their fleets to avoid paying national minimum wages is affecting seafarers, safety and economic developments in the industry and explore India's ambitious plans to become an international shipbuilding hub.
Moreover, we take a look at DNV GL's battery-powered concept vessel for short sea trade and take a look at retrofit options for ballast water treatment.
Click here to read this issue.
In this issue
Dangerous Waters
As navies and private companies ramp up security in pirate-prone seas, pirates turn their attention to different targets and cargos. We put recent data on the map to show how piracy trends and the nature of attacks have evolved.
Click here to read the full article.
On the Lookout
More than half of all piracy and armed robbery attacks at sea succeed because of human failure in lookout and threat response. Simon Williams reports on a new technology which moves the task from the ship to a controlled environment on land
Click here to read the full article.
Cheating the System
Transport union RMT has warned of a growing trend of European shipping companies 'flagging out' their fleets in order to avoid paying seafarers minimum wages. Julian Turner talks to National Secretary Steve Todd about how to prevent the exploitation of European seafarers.
Click here to read the full article.
Star in the Making?
Indian shipyards have, in the past, felt a lack of government support but that could be about to change. Dr Gareth Evans finds out if the new government could transform the country into a major shipbuilding hub.
Click here to read the full article.
Batteries Included: ReVolt Charges Up
DNV GL has developed a battery-powered concept vessel for short sea shipping, offering potentially zero-emissions operation and unmanned navigation. Chris Lo asks, can ReVolt help push forward battery propulsion and crewless technology?
Click here to read the full article.
Riding the Wave of a Boom
The market for ballast water treatment technology is set to soar with stricter environmental regulation requiring operators around the world to retrofit their vessels. Dr Gareth Evans explores the technological options and the long-term prospects for suppliers.
Click here to read the full article.
Next issue preview
Looking back on two high-profile search missions making headlines in 2014, we speak to Fugro about its vessels used in the search for the missing Malaysia Airlines flight MH370, and catch up with the Canadian team that found the lost Franklin expedition ship HMS Erebus.
This year saw the creation of two major alliances in the global industry, Ocean Three and 2M. We ask why the partnerships were formed and what effect they could have on the industry. We also step on board with shipping giant Maersk by following the daily routine of a trainee officer.
Moreover, we find out whether Royal Caribbean's Quantum of the Seas lives up to its 'smartship' billing and investigate the emerging piracy trend of hijacking oil and gas tankers.
Digital magazine FAQ
Ship Technology Global is available on the iPad and as a free desktop version*. You can download our app or read the latest issue here.
Sign up for your subscription here.
*Browser compatibility: The desktop version can be viewed in the latest two version of Chrome, Firefox and Safari, as well as in Internet Explorer 9 and 10. Some features may not be compatible with older browser versions.