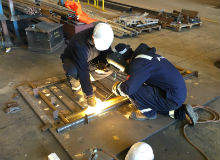 For a time in the 1900s, a fifth of all ships were made on the River Clyde in Scotland. It was, undeniably, the heartbeat of the shipbuilding industry. But come 2013, Dr Phillips O'Brien, a history lecturer at Glasgow University, told the Herald Scotland: "The sad fact is that the decline has almost already happened. We talk about Glasgow as a great shipbuilding city but it is now a relatively small shipbuilding city."
Fast forward to the present and in April of this year it emerged that hundreds of jobs could be at risk if the UK Government pulls back from its commitment to manufacture eight type-26 frigates on the Clyde. Not welcome news for those on the yards, but there is some hope. Ferguson Marine, located at the Port of Glasgow, announced earlier this year that it would take on 150 apprentices over the next three to five years.
Kelly O'Rourke, Ferguson Marine's group head of HR, explains how the company is seeking to safeguard its future and play its part in building a new legacy on the Clyde.
Gary Peters: Why did you decide to commit to 150 apprentices over the next few years?
Kelly O'Rourke: Our first apprentices were taken on last year. At that time we recruited 15, so this will be our second year.
Having reviewed the age profile of some of our key and experienced staff, it is evident that over the next ten years we will lose all steel workers to retirement. That is obviously a huge loss, so we want to ensure we capture their expertise. The best way to do that is through an apprenticeship programme.
We run our apprenticeships over three years. The first year is spent learning at college and then years two and three on the yard, with one day release to college. After that, we offer our apprentices full-time jobs and help them to progress through the company.
GP: What will your apprentices learn on a day-to-day basis?
KR: We have three apprenticeships: technical, fabrication, and engineering. The technical option involves everything from the drawing to the planning and measurements, as well as the architecture and design side. This is quite a varied role. Fabrication covers welders and platers, and then we have the engineering side.
We give our apprentices a choice of which one to follow at the beginning, but we also look at their skills and what we feel we need at the time. At the moment we're aiming for more in the fabrication area as we're losing skilled workers here.
We hope that by having different apprenticeships it will attract more interest. The more interest we get, the stronger calibre of apprentices we get.
This year we're hoping to take on up to 30 apprentices. Our recruitment for the next intake received 340 applications. We will involve our current apprentices in the induction phase and get them to work with the new apprentices; after all, it would be a waste not to involve them.
GP: How important are they in a general sense for the shipbuilding industry?
KR: At Ferguson Marine, apprentices are a huge part of taking our company forward, as part of our growth strategy and sustainability. Across the industry, there seems to be a huge skills gap. When our workers retire we struggle to find younger people within the specific trades, so it is absolutely key that we bring new people and apprentices into these jobs.
We are keen to involve the press and social media in what we are doing; sharing our success and future plans. Going forward, we want to have a dedicated person to spend more time on our apprenticeships roles, which will involve going out to primary schools, high schools and other areas where we think we can get our message across.
You need to invest in staff and new ideas. We are also looking at other areas such as super yachts and renewables. We're very well known for our shipbuilding, which of course we will continue, but we're looking at different areas, too. Development and progression, that's what it is all about. In terms of the business and our core workforce, apprenticeships really are a fundamental part.
GP: What are some of the challenges of having a large group of apprentices?
KR: I think the key thing is the number of supervisors. We have 250 employees and approximately 20 of these take up the supervisory posts.
When the apprentices are coming on site, you need to ensure they have the right level of supervision and training. To help solve this, we have our 'buddy' system. Apprentices have someone they can go to and get their key learning from.
It is very important [that the ground work is done before taking apprentices on]; having that supervision, having a plan, so that when they join, they have a structure to follow. The resources and training plan need to be right from day one.
GP: What about getting more women involved?
KR: We don't have a target figure, but we are keen to take on more female apprentices. We have involved our female apprentice in our recruitment campaigns, asking her to speak to our audience. If others see this, they will realise the opportunity is there.
It is important to target people at a young age. I think more could be done, for example going into schools and raising awareness.
GP: Is there a need for the apprentice message – outlining how important they are – to come from the top?
KR: Definitely. It very much does here. Our owner started his career as an apprentice and worked his way to the top. It is very important that the message comes from the top and the support is there.