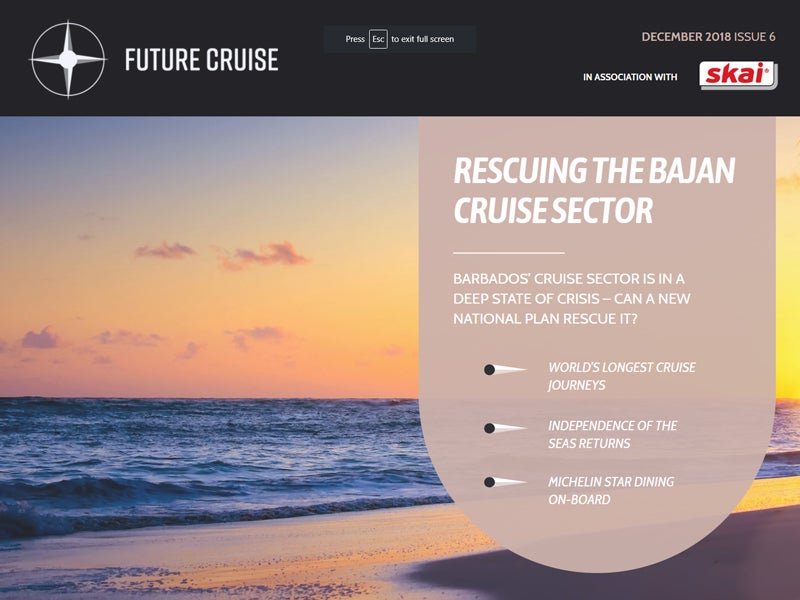 Future Cruise is now available on all devices. Read it for free here.
Royal Caribbean's Independence of the Seas has been returned to its homeport in Southampton after a multi-million pound upgrade. Our reporter visited the revamped ship to document how the company aims to entice a new generation of cruise enthusiasts through state-of-the-art facilities.
We also review some of the world's longest cruise journeys, where passengers can spend almost an entire year travelling between the globe's most dazzling destinations.
Next, we profile the cruise and tourism sectors of two Caribbean nations: one the one hand, Barbados, a historically popular tourist haunt, is seeing a slouch in profits and investment, a situation which forced the country's tourism minister to declare "a deep state of crisis". On the other hand we have Cuba. whose cruise sector is growing, spurred on by relaxed regulations for US passengers.
Finally, we round up the best grub available on the high seas, while global ship management company V. Group offers an insight into its latest digital platform which helps managing crew members on board cruise vessels.
In this issue
Independence gets the Royal Amplified treatment
The latest $100m make-over of Royal Caribbean's Independence of the Seas is a thing to behold. Frances Marcellin takes a look at the revamped ship, which aims to cater to a new, younger generation of cruise enthusiasts.
Read the article here.
Life at sea: the longest cruise journeys in the world
With the popularity of cruises growing, some companies are offering increasingly longer journeys to capitalise on this heightened interest. Elliot Gardner looks at some of the longest cruises available on the market right now.
Read the article here.
Charting a fresh course for Barbados' cruise sector
The Barbadian Government has formed the National Cruise Development Commission to come up with a path forward for the country's cruise sector, which is reportedly floundering and which tourism minister Kerrie Symmonds described as "in a deep state of crisis". Issues include port capacity constraints, inefficient infrastructure and poor customer service. What are the problems with the industry in Barbados, and how can it be rescued as a cruise destination? Chris Lo finds out.
Read the article here.
Cuba: cashing in on thawed relations
Global Ports Holding has landed a 15-year deal to operate a cruise ship port in Havana, hoping to take advantage of the thawing relationship between Cuba and the US. Callum Tyndall explores this popular cruise destination.
Read the article here.
Michelin star dining on the high seas
Cruise liners are increasingly turning to Michelin star chefs to provide customers with fine dining options rivaling the best on land. From culinary delights on board the upcoming Celebrity Edge to champagne brunches on Disney Dream, Joe Baker lists some of the finest dining options on the open seas.
Read the article here.
ShipSure 2.0: gaining the digital advantage
Digital ship management platforms and mobile apps will transform working practices while offering a cutting-edge advantages. Here, director of V.Ships Leisure Per Bjornsen explains why cruise managers should be looking to gain the digital advantage.
Read the article here.
Next issue | February 2019
For our first edition of the new year, we start by analysing shifts in cruise passenger demographics. A new phenomenon that is taking over cafes, restaurants and resorts around the world is now extending to the cruise sector: adult-only cruises are a popular search, with many liners more than happy to indulge. Similarly, we look at how old the average cruise passenger is nowadays, considering the rise in popularity for this type of vacation among millennials.
We also look at what can potentially be a big environmental issue, namely Disney Cruise Line's land-buying attempts in the Bahamas, in what locals claim to be a bullish move towards indigenous people of the island of Eleuthera.
Hurtigruten's plans to power its cruise ships with biogas produced from dead fish are also profiled, while Floating Festivals provides an insight into the logistics of putting up round-the-clock theatre performances at sea.
Finally, we learn how certain cruise lines are reimagining the idea of travel using AV tech on board, and ask whether the industry can still justify daily service charges without putting off paying customers.