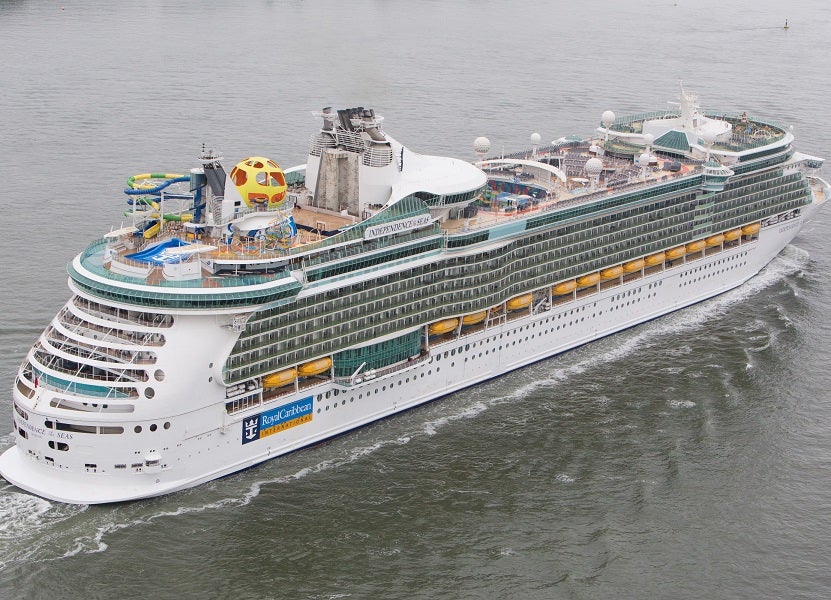 Ten years after the maiden voyage of Independence of the Seas, May 2018 saw the 154,407-tonne ship return from a $100m makeover after spending four weeks in dry-dock at the Grand Bahama shipyard.
Last year, the shipyard dry-docked 23 cruise ships for some of the industry's biggest cruise companies – including Norwegian Cruise Lines, Princess Cruise Line and Carnival – and predicted a record year for 2018.
Since her relaunch, Independence has been offering three to 14-night sailings from Southampton, UK, and from November 2018, it sails from Fort Lauderdale, Florida, on four- to five-night Caribbean cruises.
A makeover for a new generation
Independence of the Seas was the first ship in Royal Caribbean's Royal Amplified programme, which will revamp ten ships in four years through a $900m investment. The programme focuses on retrofitting new features, additional food options and new activity experiences to all Freedom and Voyager class ships, as well as Oasis and Allure of the Seas.
"We have designed this program to wow our loyal guests while also attracting the next generation of adventurers," says Michael Bayley, president and CEO of Royal Caribbean International. "We sail with more than five million guests worldwide each year and recognise the need to always innovate and stay ahead of the curve."
"We have designed this program to wow our loyal guests while also attracting the next generation of adventurers."
With a growing cruise market and travel trends predicting more millennial cruisers and demand for new experiences, the Royal Amplified programme aims to keep Royal Caribbean's fleet in line with what both cruisers and non-cruisers want from their holiday.
The Cruise Lines International Association (CLIA) predicts that 25 million passengers in 2017 will grow to 27 million in 2018. This is based on a projection following a 20% rise in interest for cruising between 2011 and 2016.
The 2018 ABTA travel trends report concurs that interest in cruising is growing at a rapid rate. It claims that 14% of UK holidaymakers plan on taking a cruise in the next twelve months, almost double the number that went on one in the last year.
It also states that millennials are showing a significant interest in cruise holidays, with more than one in ten 18 to 24-year-olds planning a cruise for next year. Many travellers are also looking for new experiences and adventures when they go away.
A new wave of features
The range of new and upgraded features is broad and they span across the entire ship. The Sky Pad, which made its debut on Independence, is all about providing passengers with a unique, high-tech immersive experience on board.
A virtual reality bungee trampoline activity, Sky Pad's nine-tonne yellow globe looks like a modern art sculpture. It took 8,100 man hours to install and has a twelve-metre diameter that draws even the casual observer's eye curiously to the top deck. Inside it holds four bungee trampolines and optional virtual reality experiences.
Water parks are one of the most popular activities on board for families and the H2O Zone has been replaced by a bigger Splashaway Bay water park. Two racing waterslides called the Perfect Storm have also been added.
"Holiday time is precious and travellers today have higher expectations."
The rapid growth of the escape room market has not gone unnoticed by Royal Caribbean – in the past year there has been a 42% increase in the number of escape rooms in the UK. With Royal Caribbean's own version, Puzzle Break – which replaces the Skylight Chapel – players have 60 minutes to unravel a mystery by solving the clues. There is also glow-in-the-dark laser tag, Battle for Planet Z, an inflatable course located in Studio B on top of the ice-skating rink.
For guests wanting to soak up more of the ocean in the privacy of their own cabin, wall-to-wall, floor-to-ceiling views are possible in new Panoramic Oceanview staterooms.
The largest Izumi Hibachi & Sushi restaurant has been built on Independence of the Seas, partly due to the popularity of Asian cuisine in the UK, which is also joined by a new "Fish & Ships" eatery. This replaces the Squeeze Juice Bar and provides a long-time culinary tradition of the British public: fish and chips. There is also a new sports bar and arcade called Playmakers, which replaces the old Photo Gallery area.
"Holiday time is precious, and travellers today have higher expectations and more options than ever before," says Ben Bouldin, managing director for Royal Caribbean International UK and Ireland. "We don't just want to meet these expectations, but smash them and redefine how to holiday."
A new app and high-speed connectivity from space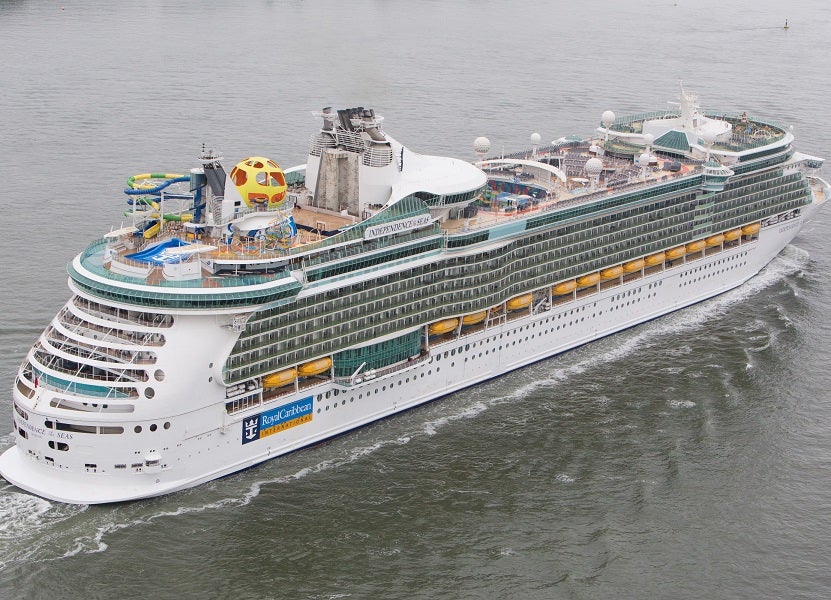 Royal Caribbean is also paying attention to digital targets, such as providing fast internet at sea and making its new app Royal available on board. This is key, especially in the UK, where Independence is homeported, as around 95% of 16 to 24 year-olds own a smartphone.
Independence of the Seas was the seventh ship to offer passengers the new Royal smart phone app (at the time of writing there are ten overall). Features accessible to guests via the app include check-in; daily activities and schedules; complete deck plans; dining, shore excursions and show reservations on the ship; activity planning and reservations and onboard expense accounts. The features available vary from ship to ship, however.
"We build guest products that remove friction, get people out of lines and let people enjoy their vacation first and foremost," says Jay Schneider, senior vice president of digital at Royal Caribbean. "We like to say we put technology in the background so that you just don't see it, but you have a great vacation."
"We like to say we put technology in the background so that you just don't see it."
Pitched as the fastest internet at sea, Voom is available on every Royal Caribbean ship and provided by SES Network's fleet of O3b MEO and GEO satellites. It has marked a new era of maritime connectivity, with 99% coverage of the globe. The companies have worked together since 2012 developing Voom, and today SES Networks work with many key players in the maritime industry, including Princess Cruise Lines to power MedallionNet and MSC Cruises.
A further layer of digital innovations – which are focused around providing a frictionless passenger experience for guests, as well as a fun one – will also be rolled out to Independence and other ships in the fleet in the future. These include facial recognition technology, enabling guests to skip check-in lines and VR and AR experiences that will transform ship spaces into virtual environments or provide interactive games, such as digital signs challenging guests to play an arcade game.
Cruising towards an innovative future
Out of the 1.9 million cruise passengers in the UK, more than 80% depart from Southampton. This is an increase of 34,000 from 2015, so the revamp on Independence has been designed to serve the growing UK market.
"Royal Amplified is built on our passion for innovation."
It will also inject investment into Southampton as each ship visit is estimated to be worth $2.5m to the local economy, around $56m each year, and the Royal Amplified programme will only help to optimise the cruise passenger experience in the UK.
"Royal Amplified is built on our passion for innovation, relentless attention to detail and commitment to always exceeding our guests' expectations," says Bayley.