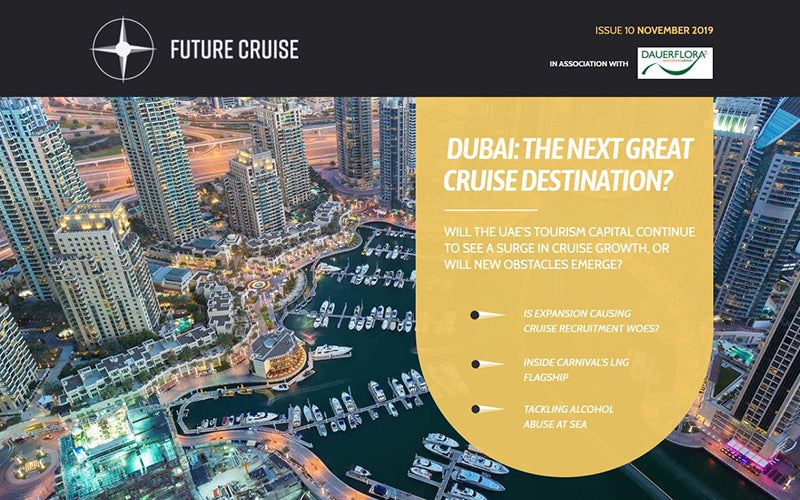 Future Cruise is back for another issue packed with technology news and industry analysis. In this issue, we ask what challenges Dubai's cruise sector could face in the future, find out if rapid industry-wide expansion could create recruitment problems, and take a closer look at Costa Smeralda – the first LNG-powered vessel in Costa Cruises' roster.
Whether you are on a desktop, tablet or smartphone, you can read the magazine for free online.
In this issue
How growth in the cruise industry is causing a drought in recruitment
The cruise industry will have to recruit 80,000 crew annually to meet with demand. With MSC Cruises looking to Africa for recruitment, just how hard is it to find crew and what strategies could be put in place to fill the gap? Frances Marcellin investigates.
Captain Belinda Bennett on blazing a trail at sea
When Belinda Bennett became Captain of MSY Wind Star in 2016, she became the world's first black female cruise ship captain. In this Q&A, Frances Marcellin finds out more about the force that is Captain Belinda Bennett and her life at sea as a sailor, working her way up through the ranks to cruise ship captain, and becoming a trailblazer and role model to seafarers all over the world.
Dubai's cruise sector: plain sailing or does Hormuz spell choppy waters ahead?
Dubai's Mina Rashid Port recently welcomed five cruise ships in a single day, and overall stats for the industry have been looking positive, with cruise footfall increasing by 51% and cruise ship dockings up 38% season-on-season. Alexander Love looks into the rapid growth of Dubai's cruise sector and asks whether tanker seizures and diplomatic tensions from nearby Iran pose any threat to this success.
Should the Cayman Islands' new cruise port facility project go ahead?
The Cayman Islands Government is developing a cruise berthing facility and an enhanced cargo port in George Town, a project estimated to cost around KYD200m but activists have questioned the environmental impacts of attracting more cruise ships to the islands. With a referendum on the proposals now on the table, Varsha Saraogi weighs the pros and cons.
Inside Costa Smeralda: Carnival Corporation's LNG flagship
Costa Cruises is preparing to launch Costa Smeralda, the first of its fleet to be powered by LNG. Adele Berti takes a look at the ship and how it fits within parent company Carnival Corporation's wider plan to have a more sustainable fleet.
Living at sea: permanent apartments on a wellness cruise line
Blue World Voyages is making waves in the industry as it plans to sell 40 residences onboard its inaugural luxury ship, starting at $2.3m. Frances Marcellin finds out why the idea of hyper-expensive floating apartments appeals and speak to founder Fredy Dellis, about some of the complexities behind getting such an ambitious project off the ground.
Thrones of contention: Dubrovnik resets its relationship with the cruise industry
Dubrovnik has come together with the CLIA to improve the spiky relationship between the Croatian city and the cruise industry. In the name of sustainable tourism, both parties are set to benefit, as Ross Davies reports.
Boozing and cruising: alcohol consumption on the high seas
Drunken chaos engulfed the P&O Britannia in July as holidaymakers brawled. Six people were injured in the fracas with fingers were pointed at a passenger dressed as a clown. The 'booze cruise' is a time-honoured tradition, but at a time when the public is becoming increasingly aware of the problems of drinking, does a stricter line need to be drawn on cruise ships? Alex Love reports.
Next issue
Next year will see the launch of a host of new flagship vessels, including Spirit of Adventure, Celebrity Apex, Scarlet Lady, and MSC Virtuosa. Future Cruise writers go head to head in our February issue to argue which ships will make the most striking presence in this perpetually growing industry.
Europe's largest shipbuilder Fincantieri is currently subject to a European Commission anti-trust review over plans to acquire French competitor Chantiers de l'Atlantique. Could this move harm competition for large cruise ship companies as the EC claims?
We take a closer look at two emerging regions in the world of cruise; the Port of Vancouver, which recently claimed that 2019 could be its largest ever season for cruise passengers; and Australia, where cruise reportedly contributed A$5.2 billion ($3.6 billion) to the country's coffers during the 2018-2019 financial year.
Finally, we take a closer look at a new cruise ship designed to prevent seasickness; analyse the potential of hydrogen as an alternative fuel in shipping, and give an onboard perspective of MSC Grandiosa, launched this November.