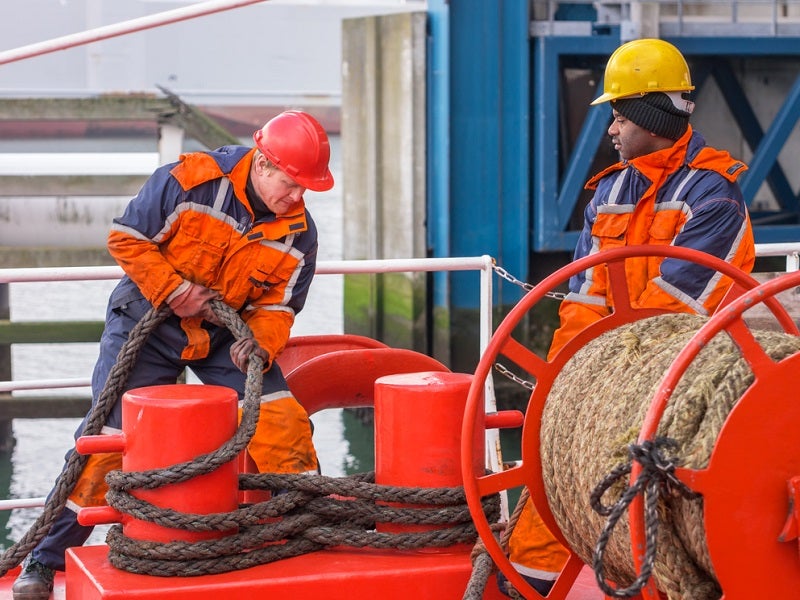 If you were to take a poll of today's shipping companies, it's likely most would claim their crew represents their single biggest operating cost. So presumably, it would make sound business sense for companies to ensure they are utilising the manpower at their disposal in the most efficient way possible.
However, the merchant shipping industry has been strangely reactive when it comes to research into new crewing strategies, with most companies seemingly set in their ways.
For instance, while some companies choose to operate a stable crewing strategy, in which the top four senior officers operate on a back-to-back basis, others prefer to employ a more fluid method, where senior officers are assigned to any appropriate vessel.
Naturally, if such a strategy has long served a company well, immutability may appear to be the way forward. But the fact that the merchant shipping industry has been so shy towards undertaking new research into the impact different manning strategies can have on safety and efficiency at sea is also to its detriment.
This is why last year Solent University kicked off a three-year study into the impact of onboard strategies. Known as the Effective Crew Project – and sponsored by Lloyds Register Foundation and the TK Foundation – the research aims to shine a light on best practices, while providing new data in an area where current information is predominantly anecdotal.
To its credit, the project is also an outward-looking one, with researchers examining data from the realms of aviation, professional sports and healthcare in a bid to draw lessons from other industries.
With the project now at its half-way point, Kate Pike, senior research fellow and project leader at Solent University, briefs us on its main findings so far.
Ross Davies: What was the rationale behind launching the Effective Crew Project?
Kate Pike: The Effective Crew Project was established to examine and understand the benefits and challenges of keeping a stable 'top four' together on board for more than one voyage.
Some would call this back-to-back manning, as opposed to a more fluid strategy where people work on short-term contracts without returning to the same vessel with some of the same people.
Other industries, such as healthcare, aviation and professional sports, have shown numerous benefits from keeping teams working together, but there has been very little research into this for the maritime industry, despite crew costs often being as much as 50% of the ship's operational budget. This topic has generated much interest within the industry and we have been working with many different shipping companies to collect data and provide new information on this subject.
RD: It seems other industries have done quite a bit of research into the impact of onboard culture, but seldom in the context of the Merchant Navy – why do you think this?
KP: The Merchant Navy is made up of many different sectors and many different companies and organisations, and often lags behind other industries in terms of research. Conducting research within the navy can be challenging, as it is a highly competitive industry sector and there can sometimes be a reluctance to share data.
In addition, the quality of reporting from ship to shore of things such as near misses can vary significantly from one organisation to another, depending on how they are received, reviewed and logged.
The nature of employment in the Merchant Navy means that many companies employ crew on the basis of a voyage contract and not on permanent employment contract.  This can lead to crew being primarily viewed as a cost rather than an asset, which does not encourage them to undertake this type of research.
Onboard culture is set primarily by the master of the vessel and reinforced by the other senior officers. The shore office will also have a part to play, but whilst at sea, the master runs the ship and the leadership style and competence of that. An individual can have a significant impact as to how the vessel is operated in terms of safety, efficiency and crew wellbeing. That in turn will impact on the culture on board.
RD: What are the main options companies have when it comes to operating a stable crewing strategy?
KP: Stable top four rotating back to back – including the master, first officer, chief engineer and second engineer.
Some companies will include other personnel in the stable team, such as a gas engineer on LNG vessels, an electrical technician on vessels with complex technology and so on. As indicated, this is vessel-specific.
Some stability can be maintained among the top four through the use of a manning pool for the similar type of vessels within a company, thereby building familiarity with both the vessel and fellow crew.
RD: Appreciative that the project still has another year and a half to run, what have been some of the more notable findings thus far?
KP: We have been able to show that there are benefits for implementing a top four stable manning strategy, however this is heavily influenced by the onboard culture – as influenced by the master. This points to the importance of supporting and developing the senior officers to effectively lead and manage the crew through regular leadership training and evaluation.
One size does not fit all and each company needs to look at their own situation and operational environment – which includes the fleet size, trading routes, where their labour sources come from and the market forces at the time – among other considerations.
Companies need to ask pertinent questions related to all of these contextual conditions and make a decision based on what is best for them at the time. Sometimes the answer might be to implement a variety of strategies, depending on the circumstances. This research is developing a range of questions that a company should ask before making a decision regarding implementation of a certain manning strategy or strategies. Getting the right mix of individuals on board is also an important consideration.
RD: Can the merchant shipping industry draw any inspiration from non-maritime industries when it comes to adopting strong crewing strategies?
KP: Other industries such as aviation, healthcare and professional sports, for example, have conducted research into keeping teams together when performing certain roles. There is evidence from these industries that building up good working relationships with colleagues can have significant benefits.
For example, during a routine knee operation, a surgery team that had worked together before were able to reduce the actual operation time by 21 minutes. The improved performance was due to increased familiarity of one another's performance and knowing how to interact with each other in the most efficient way.
Good management and leadership were highlighted as an essential part of the team make-up for the best performance. There is scope to learn from taking a more holistic view of crewing and the impact it can have on cost, safety and efficiency. Shipping companies are paying for the crew already and there is potential to experiment with manning approaches without incurring new costs.
RD: Ultimately, what benefits can a strong, stable crewing strategy bring to the industry – from the standpoints of safety, cost and efficiency?
KP: Team stability within the top four officers on board can produce improved performance through greater familiarity with the team and vessel, and higher levels of ownership and sense of responsibility and accountability.
In the engine room, this means that spare parts tend to be ordered in a timely manner, and higher standards of maintenance will become the norm as people know that they will be returning to the same vessel. This also has safety benefits and means that the ship will be run as effectively and efficiently as possible.
The actual costs savings are harder to evidence but, in some companies, can be realised from lower crew turn over, better vessel maintenance and improved safety records. One factor which is more challenging to measure is that of crew wellbeing, which can be improved when you work well within the same team.
RD: What stage is the project currently at? What are some of the next steps you will be taking in your research?
KP: The main research project will be completed by March 2019, but there is a PhD element to the research which will continue a year on from this. The project team are hosting a conference to disseminate the research findings on 31 January at the International Maritime Organization headquarters in London. An industry report highlighting best practice and recommendations will then be available from March 2019.