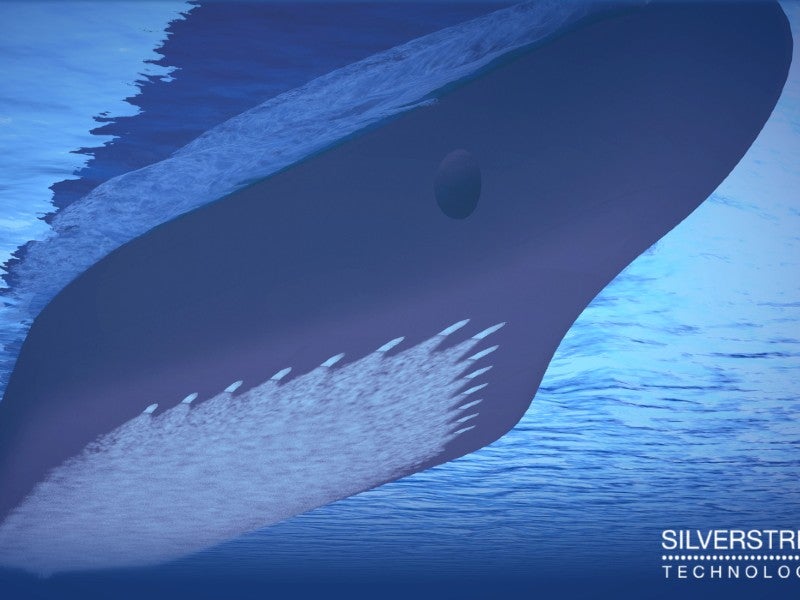 Demand for greener technologies is increasing in the shipping industry as it attempts to clean up its act. Sea freight currently emits an estimated billion tonnes of CO2 a year, which the industry has committed to halving by 2050. 
If it is to achieve this goal, then it needs to deploy a combination of solutions that cut fuel consumption and emissions. 
Air lubrication is one such technology that can contribute to climate targets, with Silverstream Technologies a leading innovator in this field. Air lubrication allows a vessel to move smoothly through the water with reduced friction on a steady stream of microbubbles. This is achieved by installing ten to 18 small vents on the hull of flat bottom ships, enabling 5%-10% savings in fuel and emissions. 
The technology works by inserting a very small amount of air into the water's boundary layer, which is the first layer of water surrounding the hull, where drag is present.
"We have developed a way so the air is pulled out by the water and then a natural air bubble layer is created," says Silverstream Technologies CEO Noah Silberschmidt, who founded the organisation in 2010. "We don't spend a lot of energy creating the air bubbles, we only spend energy in creating a constant flow of air into our air release unit and then the water is pulling out the air." 
"In terms of savings, we typically use about 1%-2% of the ship's energy to generate, let's say, a gross saving of 10%. So off the gross saving of 10%, [if we remove] the 1% or 2% we get a net 8% or 9% efficiency saving."
And the shipping industry is taking notice of what Silverstream Technologies has to offer. The company has a series of collaborations with Shell. Most recently, this was to supply the air lubrication systems for six newbuild liquefied natural gas (LNG) carriers. In addition, agreements with Carnival and Princess Cruises show that Silverstream systems are also in demand throughout the cruise sector.
Windsurfing and fuel saving benefits
According to Silberschmidt, part of what inspired the technology came from his experience as a competitive windsurfer in his youth. 
"The inspiration is that I used to windsurf competitively when I was young, right up until the age of 22. From the age of ten to 11 years old, I spent 40 hours a week on the water. And I'd have special agreements with school because I went to so many competitions. So we used to use all sorts of ways to optimise our boards to reduce frictional resistance so that they glide more easily through the water," he recalls. 
"Also, part of the inspiration is a background in math and working in teams of highly qualified engineers and math and physics majors building models. I thought getting air lubrication to work for commercial shipping was not too different from what I have been involved with before." 
Fuel savings from air lubrication systems on vessels is dependent on a number of factors, such as speed, vessel class, size and sea conditions.
"When we say we save 5%-10%, it's not because we don't know, it's just that vessels can have markedly different characteristics even amongst those of the same class," adds Silberschmidt. "The key attributes that determine the performance of air lubrication are the size of the flat bottom, the operational draught of the ship and its operating speed. 
"Our system is working about 90%-92% of the time."
"For example, on a cruise ship, we typically [make a net saving of] 5%-6%, whilst on an LNG carrier it is nearer 6%-8%. All said, the fuel saving translates to similar tonnage savings since the cruise ship is generally operating at higher speeds and fuel spend is high." 
Once installed on a vessel, the system is in-use almost permanently and Silberschmidt says that it will almost always provide some benefit to operators. 
"Our system is working about 90%-92% of the time and that's because 8% of the time the vessel will be manoeuvring procedure going in and out to harbour or something like that," he adds.  
Silverstream systems are easy to fit on newbuilds. While retrofitting has been carried out in as little as six days, this was on a Princess Cruise ship in a drydock in Singapore. 
Meanwhile, the speed of return on investment (ROI) is dependent on usage. For heavy-use vessels such as cruise ships and sea freight, the ROI timeframe is much smaller and typically well under the three to four years agreed with some clients.  
Extensive testing and instant results
Air lubrication systems have been developed following extensive testing and its manufacturers claim that operators will almost instantly notice a difference. 
"We switch it on and off, so it's very easy to see the difference from the system being on and the system being off," says Silberschmidt. "So you can test immediately. When we switch on the system on a 140,000 gross tonnage cruise ship, you see the effect within 60-90 seconds. 
You see that the power curve immediately drops and the speed increases. Translating the increase in speed to an equivalent change in power – and combining with the power saving witnessed – a power saving of 1MW is evident." 
"We want to demonstrate to the industry how the technology should be tested and proven."
"You drop the power [by] 1MW and see a small ticking up in speed performance. What we normally do is if we have three days to prove the system, we will try and run around 50 consecutive tests [lasting] ten to 30 minutes. Switch it on, switch it off, switch it on, switch it off. And then we will try to do this in a scenario [where the] vessel's going in a straight line and where the weather's not changing too much.
"We want to demonstrate to the industry how the technology should be tested and proven. And you cannot just replay it and rely on two hours of data because that could potentially not show a proper picture. Previously, we have done tests that lasted for two years when we're using two years of data. 
"For example, we have done that with Carnival, Princess Cruises and Shell. And that is, of course, to get even more [of a] data overview and also see how the system is performing in different weather conditions, in different operational patterns and also how it's operating with age." 
The system is approved by international registrars and classification societies that include DNV GL, Italian RINA and ABS. 
Noise reduction in the marine environment
One concern of air lubrication is that some suggest it may interfere with propeller efficiency through what is known as cavitation. However, Silberschmidt dismisses this notion outright. 
"I think that a lot of people misunderstand what cavitation is," he explains. "Cavitation is where a propeller creates a vacuum, a bubble of nothing that then implodes, the energy of which damages hard surfaces that they come into contact with. The implosion creates noise. Air within the water increases the vapour within a cavitation bubble and thereby dampens the energy on implosion." 
"We spend a lot of resources having propeller specialists write reports for us and explain that. So that is not at all a concern. Of course, air from the system is going into the propeller; however, it is a very small fraction of the total flow into the propeller. And what you can argue is that since we are reducing the engine load and increasing the speed, we're actually decreasing the load on the propeller and moving away from the cavitation point." 
"What we're trying to do is to really make this a standard so whenever you're buying a ship it just becomes a box you tick."
And this is where another potential benefit from air lubrication comes in. Ship propellers are reportedly the biggest contributor to underwater noise, emitting frequencies that disturb the ocean environment and pose a serious threat to marine life. 
"We're actually involved currently in projects where we are looking at the effect of the air going into the propeller in terms of noise reduction, [but] more for the effect on sea life because we know that the frequencies a propeller can sometimes disturb certain fish and mammals in the water and there was some that likelihood that the introduction of air into the propeller can change the frequency and dampen the noise," adds Silberschmidt.  
In the future, Silberschmidt hopes that air lubrication systems will become a standard part of shipbuilding. 
"It's just science, it's just hydrodynamics," he says. "It works for any ship with a hull drag. What we're trying to do is to really make this a standard so whenever you're buying a ship it just becomes a box you tick and say: 'Okay, do we want to save 7% going forward and all fuel? Yes, I want to do that'. It's just something the yard will install."