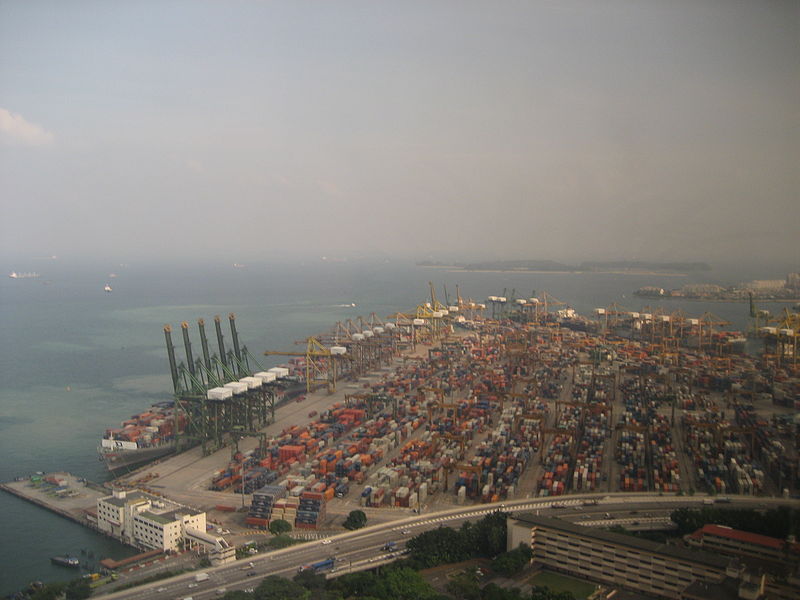 PSA Corporation (PSA) began the development of S$20bn ($14.5bn) Tuas Port project in Singapore.
Prime Minister of Singapore Lee Hsien Loong attended the groundbreaking ceremony.
The new port will become fully operational by 2040. The first port berths are expected to commence operations in 2021.
---
The University of Southampton in the UK and Shell Shipping & Maritime established a maritime research centre to provide cleaner shipping solutions.
Called the Centre for Maritime Futures, the new facility will enable the university and industry partners to collaborate on ensuring the energy shipping industry is safer, cleaner and more efficient.
Shell Shipping & Maritime contributed £1.5m as a gift, which is the largest corporate gift in the university's history.
---
Adani Ports and Special Economic Zone (APSEZ) announced it will invest approximately Rs489.33bn ($6.89bn) to increase the cargo handling capacity of Dhamra port in the Indian state of Odisha.
The investment will be transferred in two phases. It will increase the port's cargo handling capacity to 314 million tonnes a year.
APSEZ already manages India's largest private commercial port Mundra in Gujarat and is expecting to expand the Dhamra port to the same level.
---
Orient Overseas Container Line (OOCL) sold Long Beach Container Terminal to a Macquarie Infrastructure Partners (MIP)-led consortium for $1.78bn.
The deal was originally announced in April. According to the agreement, OOCL sold 100% of the terminal shares.
LBCT LLC operates the terminal, which is located in the Port of Long Beach in California, US.
---
South Korean shipbuilder Samsung Heavy Industries (SHI) received a KRW1trn ($920m) contract from Taiwanese shipping company Evergreen Marine to build six ultra-large container ships.
According to the contract, the company will build six of the world's largest ships with a capacity of 23,000 twenty-foot equivalent unit (TEU).
The container ships will be 400m-long, 61.5m-wide and 33.2m-tall. The vessels will be able to transport 23,764 20ft-long containers, according to SHI.
---
South Korean shipbuilder Daewoo Shipbuilding & Marine Engineering (DSME) won a KRW903.9bn ($760m) contract from Swiss Mediterranean Shipping Company (MSC) to build five ultra-large box ships.
According to the agreement, the South Korean firm will build ultra-large container vessels with a capacity of approximately 23,000 twenty-foot equivalent unit (TEU).
The latest contract is an option that MSC exercised as part of an 11-vessel contract signed with DSME in September 2017.
---
The Port Houston Authority approved a plan to buy electricity produced from renewable sources to meet its operational needs.
The port started talks with retail electric providers MP2 Energy Texas, Constellation New Energy and NRG Business Solutions to buy renewable electricity.
The port will select and sign a ten-year contract with a new provider who can offer contract value that does not exceed $35m.
---
Finnish shipping company Viking Line will launch its new cruise ship Viking Glory, which is considered to be one of the most eco-friendly ships in the world.
In June, the cruise liner held a keel-laying ceremony for the new passenger ship at the Xiamen Shipbuilding Industry Shipyard in China. Viking Line will launch the new vessel in 2021.
The ship will be fitted with Wartsila 31DF dual-fuel engines, facilitating operations using sulphur-free liquefied natural gas (LNG).  The ship will also be able to operate on biogas.
---
Telecoms giant BT collaborated with mixed reality partners Ubimax and VRtuoso for a live demonstration of augmented and virtual reality applications at Belfast Harbour over its public 5G network.
The port has been evaluating these two 5G enabled applications as part of its strategy to create a 'Smart Port' and an iconic waterfront for the city.
The trial is aimed at demonstrating how these real-time immersive reality experiences and connected staff can create a 'Smart Port'.
---
Five South Korean shipping firms were planning to form an alliance to secure liquefied natural gas (LNG) transportation contract from Qatar Petroleum.
The companies include Hyundai LNG Shipping, Pan Ocean Company, Korea Line Corp, SK Shipping Company and H-Line Shipping Company.
Qatar Petroleum is likely to sign contracts for at least 40 LNG carriers for its North Field Expansion (NFE) project by the end of the year.