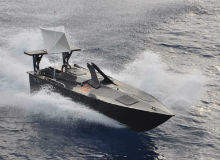 In aviation, unmanned aerial vehicles (UAVs) – or drones, as they are commonly known – have become enormously popular, whether for recreational use, military operations, or parcel deliveries. However, they have also caused problems for conventional aircraft, sometimes flying too close to airports and narrowly avoiding collisions.
In the UK, UAVs are subject to safety rules, underpinned by British law. Using the unmanned vehicles for commercial purposes also requires permission from the Civil Aviation Authority (CAA). Similarly, the Australian Civil Aviation Safety Authority requires notice of at least five business days to fly what they term "small remotely piloted aircraft" for commercial reasons.
The dangers of UAVs are similar to those posed by maritime unmanned surface vehicles (USVs). What if a small craft unintentionally moves into the path of a container ship? The consequences could be far worse in the future, too, as the prospect of larger unmanned ships looms ever closer.
In August 2014, the UK Marine Industries Alliance set up the Maritime Autonomous Systems Regulatory Working Group (MASRWG) to create a framework to avoid this type of situation.
"Most of the USVs today are relatively small – three to ten metres, and some go quite slowly," says James Fanshawe, chair of the MASRWG. "But of course coming along are plans for much larger commercial vessels."
"Increasingly we have been spreading our net," he explains. "We are talking to a number of countries, including the US, Australia, European countries, and some in the Far East. It will never be a British-only regulatory framework; it has to come with the full support of other nations."
But, what does this "net" actually consist of, and what does it mean for the use of USVs at sea?
A code of conduct: driving awareness and understanding
First, it's important to recognise that the MASRWG is not a regulatory body. It will not, says Fanshawe, be implementing anything that can be used to provide a legal basis.
Rather, it is a stepping stone, one which has recently released an "industry-led" code of conduct for surface maritime autonomous systems. Nevertheless, it is easy to see how this might influence future regulation.
"We've had very positive feedback," adds Fanshawe. "We're using as best we can all the procedures that are in place through collision regulations, safety of life at sea, maritime pollution regulations, and so on, and we hope our work will go forward to the International Maritime Organization (IMO) next year."
The code states: "Technology and user requirements are accelerating the delivery of systems with greater utility and greater autonomy. However, the regulation and certification requirements covering the development, design, production and operation of autonomous [vehicles] are yet to be firmly established."
"I think most people are already on the curve."
It aims to "establish a pan-industry agreement…in advance of and alongside the establishment of governing regulations". Although the language may seem vague, there's nothing routine about the substance, or the ambitions behind the effort.
As an example, the code lists an "industry principle", which it hopes will lead to agreements on the level of safety required for each unmanned vehicle, throughout its life at sea. With the speed of technological change, it is easy to see how this will have to be fluid, incorporating different safety features as and when they emerge.
As Richard Daltry, technical director at Autonomous Surface Vehicles (ASV) explains from his own experience: "In the early days, right back at the start of ASV in the 2000s, we really were a naval architecture company, focused on developing novel hull forms.
"Then we moved into finding where the niches were, and the early one was target drones, literally remote controlled speed boats, which developed into auto-pilot controlled speed boats to run alongside the navy for training."
In the last five years another shift has occurred, and Daltry is now focused on developing multi-role USVs for oil and gas and survey applications, as well as boats for mine countermeasures. This is both the beauty and the difficulty of USVs; a new world of possibilities on the one hand, but an endless process of refining and reforming future regulation on the other.
Creativity and coexisting with conventional shipping
What this rise of USVs demonstrates is that creativity has flourished. What there needs to be, therefore, is a happy medium by which that creativity can continue, in a way that is mindful of the regulations that govern it.
This point is not lost on Fanshawe. "It is critical that we don't do that," he says, when asked if regulation could stifle creativity. "The approach we've taken so far, I don't think anybody would say is stifling creativity. In fact if anything it's giving it a firmer base on which to work.
"The challenges are that we've got to make sure people understand what the requirements are, understand what is the art of the possible."
Another challenge – the most important yet difficult to overcome – is USVs and their relationship with conventional shipping.
"It's largely agreed now that in 20 to 30 years most of us won't drive our cars," says Daltry, "but at the same time we're all aware of what an enormous challenge that is. And that's no different for the maritime industry."
Whether right or wrong, some believe this drive for autonomy will spell the end for all manned vessels, but Daltry is not convinced. Instead, he thinks "in the future there will still be many manned vessels, probably still the majority". But, there will be seamless interaction between manned and unmanned.
"In other words, what you see on the bridge of a manned vessel will show you similar things that are being studied by the autonomy brain on a vessel that's unmanned or [controlled] by a shore-based crew.
"At the moment we are not relying on a computer to make decisions, but that is coming. Time will tell how that will be regulated."
The MASRWG code of conduct highlights this, describing how at all times, the "industry will conduct maritime autonomous systems (surface) operations in a safe and effective manner with full regard for other users of the maritime space".
What the IMO says and learning from other industries
As Fanshawe described earlier, the code is to be used a reference. The actual implementation of regulation will be for international and national bodies, such as the IMO.
So, what is the IMO saying?
"IMO has not yet regulated unmanned vessels," says a spokesperson, who also highlights the work of the UK in attempting to take a lead on the issue.
Meanwhile, at the Safety@Sea conference, held in Singapore in August, IMO Secretary-General Kitack Lim said: "We cannot talk about current and future challenges without focusing on technology. In the 21st century, more than ever, humans rely on technology in all walks of life. Shipping is no exception."
"The IMO has not yet regulated unmanned vessels."
Different sectors have different interpretations, but Fanshawe and Daltry agree on the need to learn from others.
"I have representatives from the CAA on the working group," says Fanshawe. "I would say there are two parts to this story. One, the lessons they can offer us from their work, and [the other is] how we are always watching how technology is being used in other sectors. Where we can we're learning from it."
A long road ahead, that's for sure. But answers to how USVs can be regulated are starting to emerge.
The MASRWG is working on a code of practice and a further paper, which will, hopefully, make it to the IMO. There's also the Unmanned Safe Maritime Operations Over The Horizon project (USMOOTH). Funded by Innovate UK, USMOOTH wants to develop a USV that can work safely at sea for three months at a time.
"I think most people are already on the curve, maybe some without realising it," says Daltry. A curve is bound to transform as both autonomy and regulation evolves.