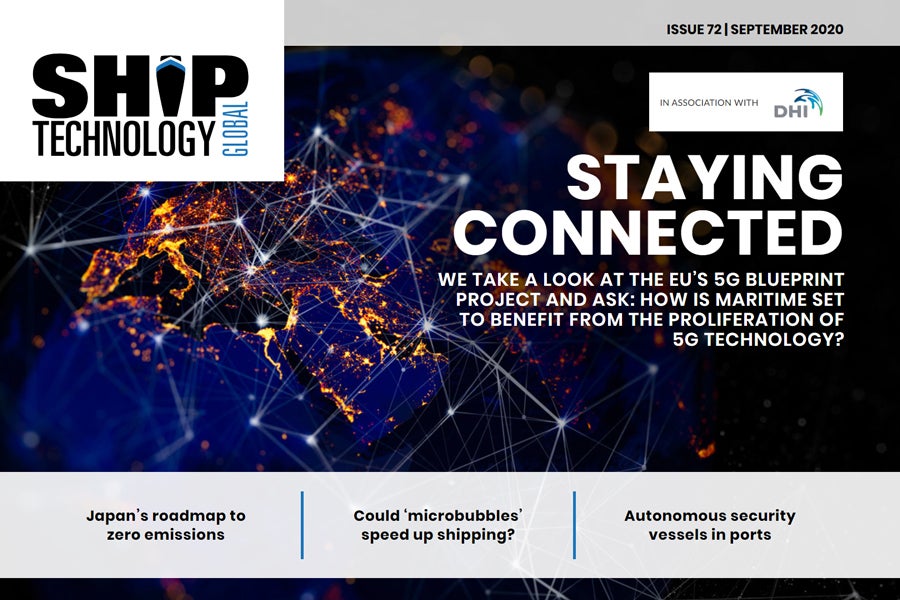 Ship Technology Global is back for another issue packed with technology news and industry analysis. In this issue, we ask how the maritime industry is set to benefit from 5G connectivity, investigate Japan's plans to create a zero-emissions container ship by 2028, shine a spotlight on deceptive shipping practices and more.
Whether you are on a desktop, tablet or smartphone, you can read the magazine for free online.
In this issue
Restart, recover, renew: inside Maritime UK's Covid-19 Sector Recovery Plan
British trade association Maritime UK has rolled out its Sector Recovery Plan, which sets out joint action for industry and government in three stages. Julian Turner talks to Maritime UK director Ben Murray about the environment, regional competitiveness and innovation in the wake of Covid-19.
Jones Act at 100: could this be the time for a change? 
June 2020 marked the 100th anniversary of the Jones Act, which is designed to protect US shipping from outside competition. While some argue the policy supports the domestic maritime industry, many believe it unfairly restricts the broader economy. Adele Berti asks: should the policy change?
Europe doubles down on 5G in shipping
5G Blueprint is one of 11 projects recently funded under the EU's Horizon 2020 scheme and looks into using 5G for cross-border remote operation of road and maritime transport and logistics. How could 5G benefit seamless marine logistics, and how long is the road to get there? Adele Berti finds out.
Inside Japan's Roadmap to Zero Emission from International Shipping
The Japanese Government recently launched its 'Roadmap to Zero Emission from International Shipping', which aims to develop a sustainable ship that does not emit greenhouse gases by 2028. What will this mean for Japan's shipping industry and maritime-dependent economy? Adele Berti reports.
Q&A: how gravity fields can enhance ocean navigation
The UK Quantum Technology Hub is developing a new system to improve maritime navigation. Ilaria Grasso Macola spoke to the hub's director Dr Kai Bongs to find out how this new technology works.
Streaming service: could microbubbles speed up shipping?
UK tech firm Silverstream Technologies has developed a lubrication concept which uses tiny bubbles pumped through vents on the hull to reduce friction between the vessel and the water, helping it glide through the seas, improving efficiency and saving fuel. Alex Love caught up with Silverstream Technologies CEO Noah Silberschmidt to find out more about their technology and recent deals with Shell and cruise lines.
Sanctions evasion: clamping down on deceptive shipping practices
The US Coast Guard has issued a new guidance document on common deceptive shipping practices among those looking to evade international sanctions. What are the recommendations for the industry, and what do they reveal about the future of sanctions enforcement at sea? Chris Lo reports.
Autonomous security vessels: benefits, challenges and future uses
An increasing number of companies are launching autonomous vessels to provide maritime services such as security in ports. Ilaria Grasso Macola speaks to two manufacturers to find out more about the benefits and challenges that come with unmanned surface vehicles.
Next issue preview
In the wake of the devastating explosion in Beirut, Lebanon in August, we look back at the key events on the timeline leading up to the disaster at the Port of Beirut and ask whether now may be a good time for a reassessment of the International Maritime Organization's (IMO) Dangerous Goods Code.
We also explore how Covid-19 has raised awareness of the importance of assessing seafarers' mental health, and whether it could also speed up the adoption of more digital tools in the freight shipping sector.
We take a closer look at why the Singapore Straight has become a hotspot for piracy, inspect the world's first fully electric tugboat, and highlight key points from the IMO's new 'Just in Time Arrival Guide'.
Finally, we find out what comes next after the European Parliament's Environment Committee agreed to include carbon emissions from the maritime sector in its Emissions Trading System.
Would you like to be notified when a new issue of Ship Technology Global is out? Sign up for email alerts here!
We will only use your email address to let you know when a new issue is available. Ship Technology Global is published bi-monthly.