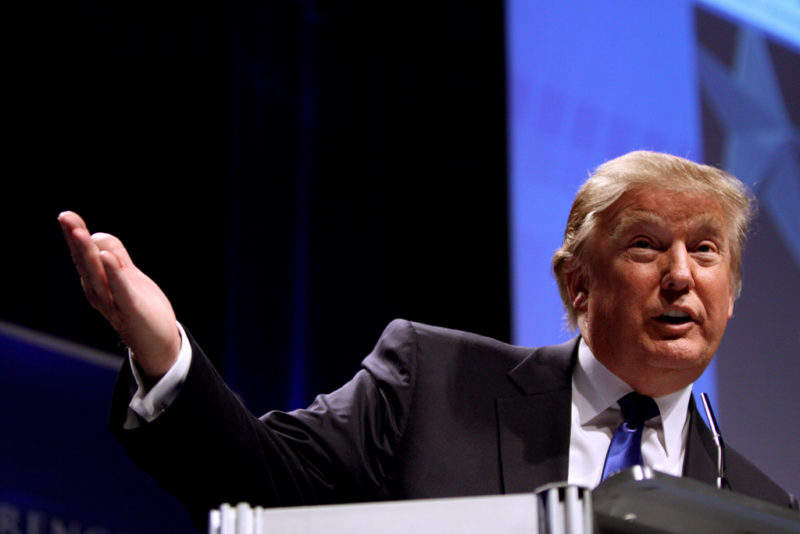 Trade wars are both "good" and "easy to win", said US President Donald Trump, shortly after announcing a new 25% tariff on steel imports and 10% levy on aluminium imports at the start of March.
It's the kind of muscular language we've come to expect from the White House. During the election, Trump campaigned on a pledge of protectionism – in this case paring back the US trade deficit through a mix of revised trade agreements and coming down hard on trading partners not playing by the rules.
The target nation of the new tariffs need hardly be spelled out. Trump has long been critical of China and what he sees to be an asymmetrical and "one-sided" trading relationship. Beijing, says the President, is undercutting US companies and torpedoing jobs and communities across the country as a result of its unfair commercial practices.
A flashpoint of tit-for-tat tariffs is now brewing, with China placing levies of its own on up to $100bn worth of products imported from the US – including everything from soybeans and chemicals to aircraft and golf carts.
"Outright bad for shipping": industry fears of stripped volumes and losses
At first blush – or looked at in its most reductive sense – this is very much a Sino-American affair. But while Europe has been granted exemption from tariffs – as well as Argentina, Australia, Brazil, South Korea, Canada and Mexico – there are concerns that tensions could spell out bad news for global trade.
This applies to the maritime space, with some industry experts fearing that a full-blown trade war could hurt shipping volumes – and, in turn, bottom lines for container shipping lines.
"There is no doubt that a trade war, between the US and China – and any other countries for that matter, is outright bad for shipping," says Peter Sand, chief shipping analyst at Baltic and International Maritime Council (BIMCO).
"Dry bulkers – used for the transportation of steel and soybeans – are most likely to be hit hardest."
"The shipping industry is feeding on globalisation and facilitates prosperity across the globe. Countries engaging in trade wars are harmed by it, as it results in suboptimal use of resources."
According to Sand, dry bulkers – used for the transportation of steel and soybeans – are most likely to be hit hardest. The impact on container shipping is set to be on "eastbound transpacific head haul trade from the Far East to North America".
"Amongst the top ten commodity categories affected, we have the likes of electrical machinery, metal manufactures and specialised machinery," he says. "Imports into the US are likely to go somewhat down as the tariffs enter into effect.
"There will also be fewer boxes moving west from the US, although this is not key to shipping. It means more to the ports than to carriers, as back haul freight merely covers a part of the repositioning costs."
A portside story: misgivings in Puget Sound heard in Congress
Over at the Northwest Seaport Alliance (NWSA), a joint venture between the ports of Tacoma and Seattle, and the fourth-largest shipping gateway in North America, there are deep concerns that the new tariffs could do more harm than good for the local economy.
As a springboard for US-to-Asia transits, steel and aluminium imports going through the NWSA last year accounted for over $2.5bn. Such are the misgivings over the damaging impact of levies, that NWSA CEO John Wolfe provided a testimony to Congress in April to warn of the regional economic risks.
"Our success as an airport and seaport gateway is inextricably linked to China," said Wolfe. "While there are justifiable concerns about China's trade practices, we continue to believe that productive engagement and negotiations are the best path to ensuring a fair and level playing field for mutually beneficial trade."
"A worst-case scenario could see 1% of global loaded container traffic exposed to higher costs."
According to preliminary studies conducted by independent maritime research consultancy Drewry, a worst-case scenario could see 1% of global loaded container traffic exposed to higher costs as a result of the new tariffs – negatively impacting on overall container growth.
"We are very concerned this will turn into a full-blown trade war, in which case there will be no winners," explains Simon Heaney, senior manager for container research at Drewry's London office.
"The container market is in recovery mode after some tough years and any tit-for-tat trade dispute will be an unwelcome development for shipping lines, even if a lot of the tariff list goods will actually be airfreighted rather than move by sea."
Over-reaction: impact of levies would be "minimal"
Some, however, have chosen to dismiss predictions of a catastrophe at the hands of the levies.
Speaking to Bloomberg in the aftermath of the announcements, Gerry Wang, co-founder and former CEO of Hong Kong-based containership charter owner Seaspan, argued the net impact on the shipping industry to be "minimal". The tariffs, claimed Wang, would be offset by tax cuts, which could generate more volumes, and increase demand.
"Being a very optimistic industry, some also believe that the industry could benefit from this," admits Sand. "As the existing trade patterns shift, more ton-miles may be added."
Prevailing uncertainty: is there an end in sight to tensions?
Right now, the only certainty for the shipping industry is uncertainty. With trade between China and the US accounting for around 4% of global commerce, it seems likely that any ongoing dispute will have consequences for global trading patterns at some point in the future.
"It is very hard to second guess how this will end," says Heaney. "Very recent history suggests it might not be anything more than sabre-rattling to appeal to President Trump's core voters, as tariffs on steel and aluminium announced in early March were quickly followed by a long list of exemptions.
"The threat to Chinese exports could just be another example of the US President's aggressive trade tactics designed to force concessions, but it's a very dangerous game of chicken, as China is unlikely to back down.
"The industry is genuinely afraid of further escalation," says Sand.