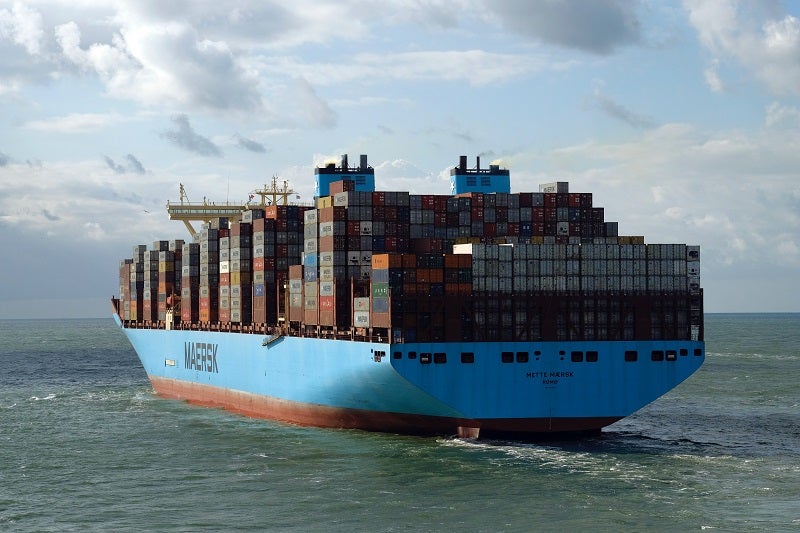 The American Bureau of Shipping (ABS) has announced that Danish container shipping company AP Moller-Maersk's eight large container vessels will be built to its class.
Along with an option for an additional four vessels, the eight ordered ships will be built by Hyundai Heavy Industries (HHI).
With the capacity to run on carbon-neutral methanol, they will possess a nominal capacity of nearly 16,000 containers.
Replacing the company's older vessels, the new ships are expected to provide an annual carbon emissions savings of around one million tonnes.
The newbuilds will feature a dual-fuel engine setup, which will allow operation on conventional low sulphur fuel.
Additionally, they will be capable of sailing on carbon-neutral e-methanol or sustainable bio-methanol.
According to the maritime classification society, Maersk chose it for the classification of the ships due to 'ABS' leadership in sustainably fuelled vessels'.
This includes Maersk's feeder vessel, which features dual engine technology and is currently undergoing construction to ABS Class.
Maersk CTO and senior vice president Palle Laursen said: "More than anything, decarbonising shipping requires collaboration and innovation across the ecosystem, so I am pleased to have ABS and its leading expertise with us on this journey.
"Our methanol-fuelled vessels will play a significant role in reaching our commitment of 60% CO₂ fleet reduction by 2030 compared to 2008 levels. They will also be a proving ground where we learn how to bunker and operate carbon neutral vessels safely, efficiently and reliably, so we can continue building momentum towards carbon neutrality in 2050."
Furthermore, ABS has issued guidance on methanol as a marine fuel, assessing the challenges in the design and operation of methanol-powered ships.
Last month, ABS collaborated with conversational artificial intelligence (AI) platform yellow.ai to introduce enterprise-grade, AI-powered chatbots and voicebots on its ABS My Digital Fleet risk management platform.
This was claimed to be the first time that a marine digital solution would yield information and support to shipping firms in a conversational manner on a global scale.