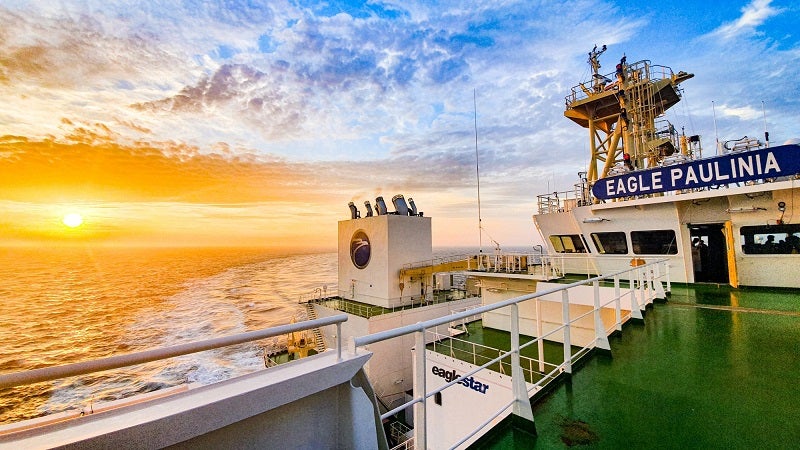 Malaysian shipping company AET has delivered dynamic positioning shuttle tanker (DPST) Eagle Paulinia to Petrobas on 24 July.
The vessel is on the way to Rio de Janeiro, Brazil, to begin its duties. It will join Eagle Petrolina, the sister ship, and other two DSPTs that are operated by AET in the Brazilian Basin.
In 2018, AET signed a long-term charter agreement with Petrobas to operate four Suezmax shuttle tankers in the Brazilian Basin.
The first of the four vessels, Eagle Petrolina, was delivered to Petrobas on 26 May.
Both vessels were built in South Korea. The other two vessels are under construction.
The four vessels have a deadweight tonnage (dwt) of 152,000 and are constructed according to the technical requirements of Petrobas for DP2 shuttle tankers.
They operate according to the 'highest operational and environmental standards', which include compliance with the International Maritime Organization's NOx Tier 3 and SOx emission requirements.
The teams of AET, Eaglestar and Samsung Heavy Industries adhered to the health and safety precautions amid the ongoing global Covid-19 pandemic.
Currently, AET operates eight DP2 shuttle tankers, including Eagle Petrolina and Eagle Paulinia.
The company currently has another nine shuttle tankers that are being built and are scheduled to be delivered between this year and 2022.
In May, AET announced that its liquefied natural gas (LNG) DPST Eagle Blane completed maiden bunkering at the Netherlands' Port of Rotterdam.
In October last year, AET launched two LNG DPSTs Eagle Blane and Eagle Balder in South Korea.
Both tankers have a dwt of 123,100.