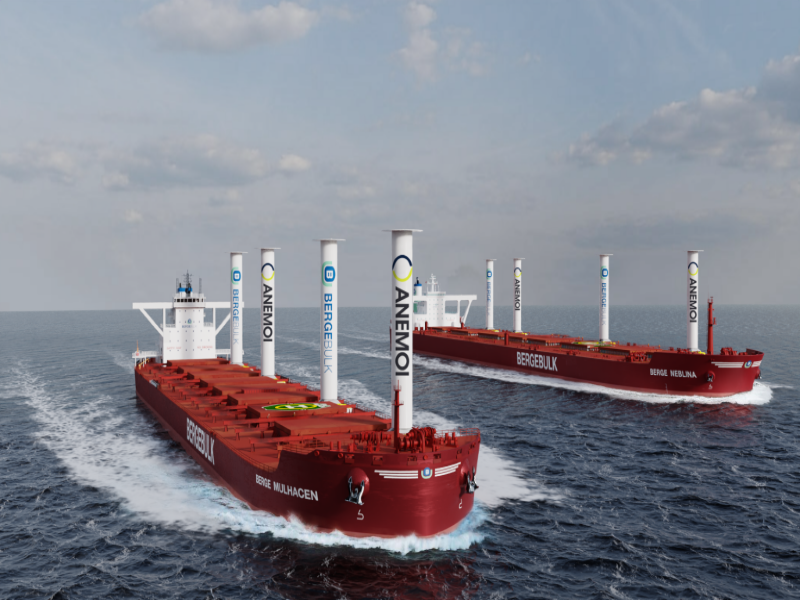 Anemoi Marine Technologies has received a contract from Singapore-based Berge Bulk for the delivery of rotor sails.
Under the contract, Anemoi Rotor Sails will be installed on board the Berge Neblina and Berge Mulhacen vessels.
Constructed in 2012, Berge Neblina was made 'wind-ready' at the start of the year. It is a 388,000 deadweight ton (dwt) Valemax ore carrier.
The structural integration needed before deploying the technology was conducted during a scheduled dry dock.
Four of Anemoi's large folding deployment rotor sails will be installed to enhance the vessel's performance.
The folding rotor sails can be lowered to reduce the impact on cargo handling operations and air draught.
The 'wind-ready' approach has been used to be in line with vessel availability and Anemoi's production slots.
The same approach has been used for the second vessel, Berge Mulhacen, a 210,000dwt Newcastlemax bulk carrier that was constructed in 2017.
This vessel will also be installed with four folding rotor sails.
DNV has granted plan approval for the installations on both ships.
Berge Bulk technical director Paolo Tonon said: "Wind propulsion is an option we have explored previously in other formats, and we firmly believe it can help achieve our decarbonisation commitments.
"The partnership with Anemoi commenced with in-depth engineering simulations to find the best possible technical and commercial solution. Therefore, we are pleased to be rolling out their Rotor Sail technology on our vessels."
Berge Bulk aims to develop and deploy commercially viable deep-sea zero-emission vessels by 2030.
In 2020, Wartsila reached a memorandum of understanding (MoU) with Anemoi for the future sales and servicing of rotor sail solutions to the shipping sector.