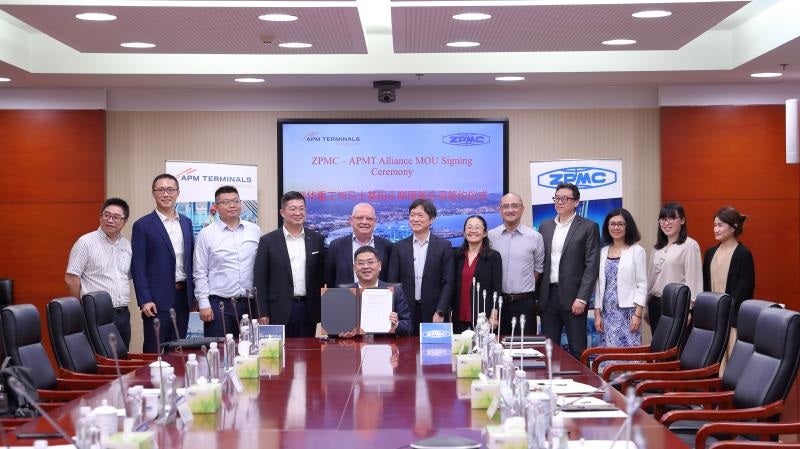 APM Terminals (APMT) and port equipment manufacturer ZPMC (Shanghai Zhenhua Heavy Industries Company) have signed a memorandum of understanding (MoU) to jointly develop and install a variety of automated solutions.
Under this strategic alliancing framework, the entities will alter equipment purchasing from 'a purely transactional process to a more strategic collaboration', while emphasising automation.
The partnership will support APMT's strategy of 'Safer, Better, Bigger' by providing access to automated equipment for its varied terminal portfolio.
Additionally, the MoU comprises an order for 18 ship-to-shore (STS) Cranes and nine yard cranes for six terminals, along with the reservation of production slots for an extra 25 STS cranes and 62 yard cranes in the coming years.
APMT CEO Morten Engelstoft said: "With this alliance, we are leveraging our 23 year-long relationship more effectively, in which APMT demonstrates strong commitment towards ZPMC and in return receives prioritisation of factory capacity, access to the best resources, active involvement in product development according to our needs and a commitment to maintain the relationship on long-term basis."
As of now, automated solutions from ZPMC are being used in many APMT facilities, including Vado Ligure, Italy; Lazaro Cardenas, Mexico; and Tangier, Morocco.
APMT is also conducting a trial of ZPMC's automated straddle carriers at its facility in Denmark.
ZPMC chairman and president Liu Chengyun added: "I hope these good experiences will now translate into even better results for APMT, as we now embark on this strengthened collaboration based on innovation and co-development."
With this new collaboration, the companies expect to partner in other areas, including safety, supply chain and decarbonisation.
In May, APMT Mumbai concluded the installation of the latest N4 offering from Navis, a subsidiary of Cargotec.