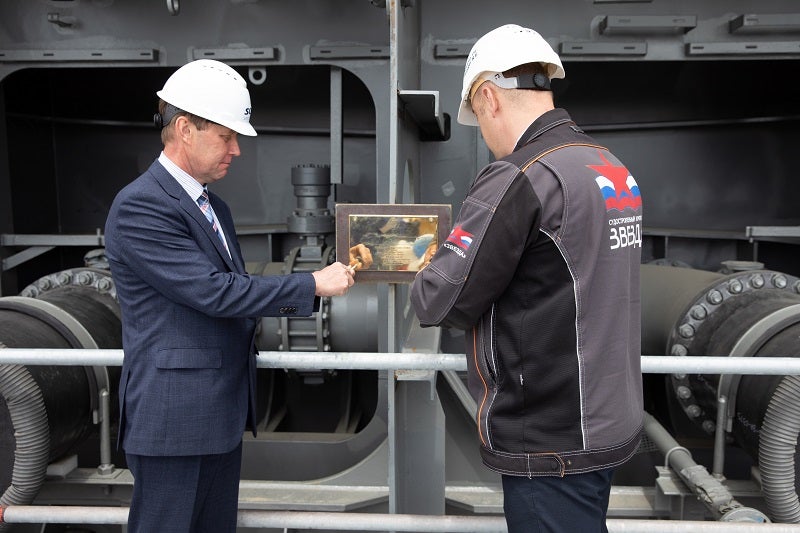 Russian shipbuilder Zvezda Shipbuilding Complex has laid the keel for a new Arctic liquefied natural gas (LNG) carrier that is being constructed for PAO Sovcomflot (SCF Group).
This vessel is the lead ship in a series of 15 carriers that have been ordered from the shipbuilder.
Zvezda claims that this is the first carrier of its type, with the specific dimensions, cargo capacity and icebreaking capabilities, to be built in Russia.
While the lead ship will be owned by SCF, the remaining 14 carriers will be owned by SMART LNG, a joint venture between PAO NOVATEK and PAO Sovcomflot.
All the ships will run under long-term time-charter contracts with Arctic LNG 2.
Investment firm VEB.RF has provided funding for the construction of these vessels. Russian Maritime Register of Shipping (RS) and Bureau Veritas (BV) are managing the process of shipbuilding.
The carriers will operate under the Russian flag and will be delivered between 2023 and 2025.
With a length of 300m and width of 48.8m each, the vessels will have cargo capacities of 172,600m³.
The vessel's propulsion system will consist of three azimuth propulsion units, with a combined power capacity of 45 MW.
These ice-class Arc7 vessels are being designed for the year-round transportation of LNG in the extreme environments along the Northern Sea Route.
In comparison with the first generation of icebreaking LNG vessels, the Christophe de Margerie series, these vessels will feature enhanced icebreaking competencies and manoeuvrability in the ice.
At present, SCF has ordered roughly 20 large-capacity tankers from Zvezda, including 15 icebreaking LNG carriers and five LNG-fuelled tankers.
With a total cost of more than $5bn, the ships have a combined deadweight of 1.86 million tonnes.
In January, Zvezda commenced the construction of the second ARC7 LNG carrier.