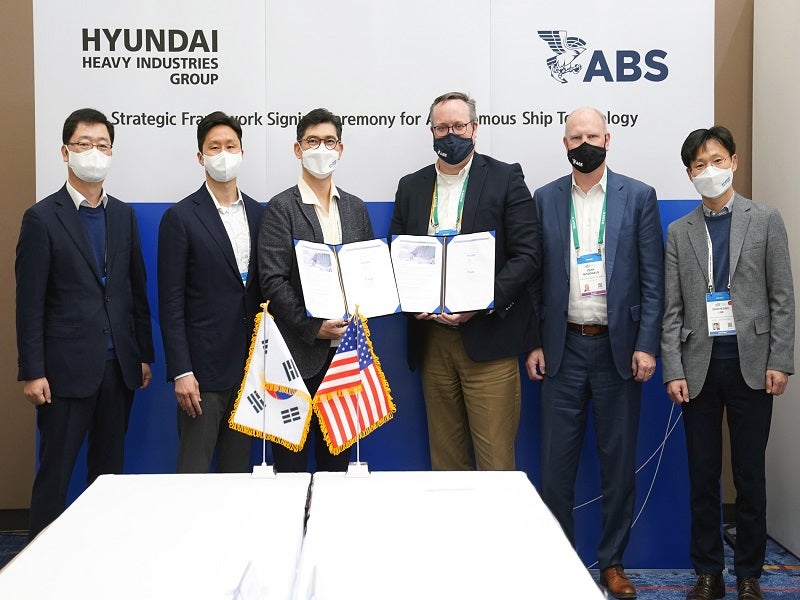 Hyundai Heavy Industries (HHI) Group subsidiary Avikus has entered a memorandum of understanding (MoU) with the American Bureau of Shipping (ABS) to secure approval in principle (AiP) for the application of autonomous ship capabilities.
The entities will work together to carry out real-life trials for autonomous ship technologies.
The MoU was signed at the CES 2022 tech show, held in Las Vegas, Nevada, US.
Now, Avikus will initiate phased demonstration tests for several of its solutions.
These technologies include the Hyundai Intelligence Berthing Assistance System (HiBAS), Hyundai Intelligent Navigation Assistant System (HiNAS) and Hyundai Intelligent Navigation Assistant System 2.0 (HiNAS2.0).
Thanks to the trials, Avikus will be able to receive certificates for its autonomous vessel solutions at each necessary stage.
As part of the agreement, ABS will examine the design and control testing processes, as well as validate the application for each stage on the basis of operation data recorded by Avikus.
The partnership will also aid in the creation and improvement of standards as well as regulations for autonomous technology and operations.
Along with ABS, Avikus aims to demonstrate an autonomous shipping solution for a transoceanic voyage, which would involve a large-scale commercial ship that is currently in development.
Last June, Avikus completed a demonstration of the first fully autonomously navigated cruise in South Korea.
Avikus CEO Do-hyeong Lim said: "The agreement with ABS holds a great significance as it promotes the technology standardisation through the stage-by-stage certification of Avikus' proprietary technologies. With these commitments, we will contribute to expanding the autonomous vessel market and proactively preoccupy the related markets."
At CES 2022, Avikus also unveiled a leisure boat that features autonomous navigation technology, as well as the company's future vision of autonomous ship capability in the maritime mobility sector through the use of simulated navigation and virtual reality solutions.
Last month, ABS awarded AiP to Anglo-Eastern Technical Services (AETS) for its ammonia-fuelled Newcastlemax bulker design.