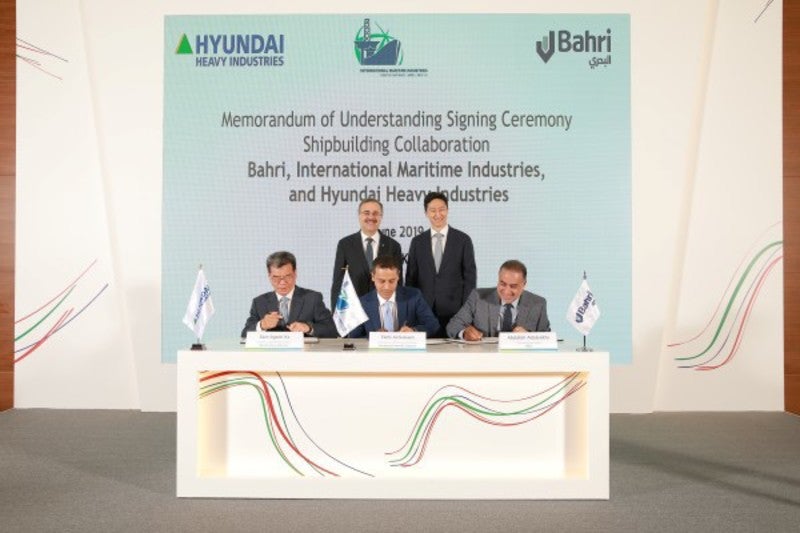 Bahri , International Maritime Industries (IMI ) and Hyundai Heavy Industries (HHI) have signed a memorandum of understanding for very large crude-oil carriers (VLCCs).
Formerly known as the National Shipping Company of Saudi Arabia, Bahri said that it is committed to commissioning its first order from IMI before the end of next month.
Once the Saudi shipping company places its order for the VLCCs, HHI will serve as a subcontractor by building the vessel at its yard in South Korea, which will assist IMI by providing it with the knowledge to build VLCCs independently in Saudi Arabia and in line with international shipbuilding standards.
Bahri CEO Abdullah Aldubaikhi said: "This agreement, which further strengthens our strong strategic relationship with IMI and HHI, signifies a major development in this direction, and we are confident it will provide a boost to our ongoing efforts aimed at enhancing our offerings and bolstering our capabilities.
"We look forward to a fruitful collaboration that will immensely benefit our customers and shareholders."
IMI CEO Fathi Al-Saleem said: "This agreement further strengthens the business relationship between IMI and its shareholders, as well as contributing to the development of a localised maritime industry supply chain infrastructure, technical expertise for Saudi nationals, and a track record in shipbuilding."
IMI is a joint venture between Saudi Aramco, Bahri, Lamprell , and HHI.
Claimed to be the largest full-service maritime facility in the Middle East and North Africa, IMI can manufacture four offshore rigs, more than 40 vessels, including three VLCCs, and service over 260 maritime products per annum.