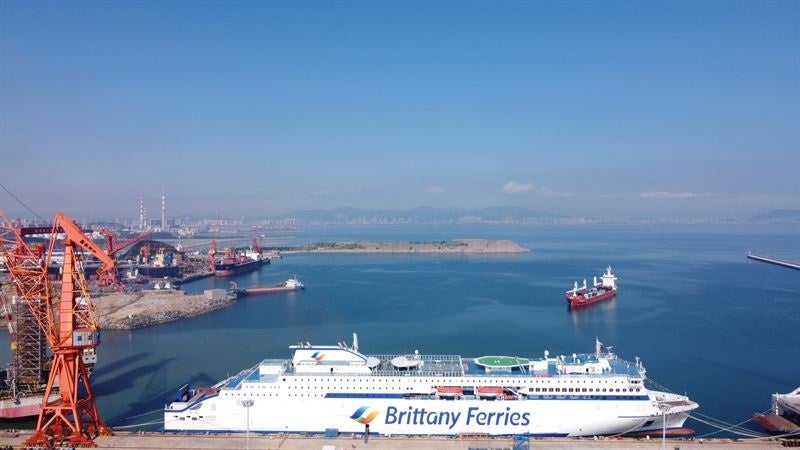 French shipping company Brittany Ferries has taken delivery of the Salamanca, the second of five vessels ordered in the E-Flexer class for the company, from Swedish ferry operator Stena RoRo.
This liquefied natural gas (LNG)-driven E-Flexer cruise ferry is the sixth E-Flexer of 12 ordered from the China-based shipyard CMI Jinling (Weihai).
Brittany Ferries will charter the vessel, which has a length of 214.5m, breadth of 27.8m and draught of 6.4m, on a long-term basis.
Salamanca can carry 1,100 people and has a capacity of 2,723 lane metres.
Equipped with LNG dual-fuel engines, this is the first vessel in the E-Flexer series to be loaded with gas engines.
The vessel's interior has been designed by Richard Nilsson at Figura Architects.
Stena RoRo CEO Per Westling said: "The Salamanca is special because she is the first in the E-Flexer series to be delivered with LNG propulsion.
"The design has been adapted to Brittany Ferries' special requirements and the yard has yet again been able to deliver according to schedule despite the ongoing pandemic."
Brittany Ferries CEO Christophe Mathieu added: "It is one of the pillars that will drive our recovery from the Covid crisis and deliver another successful 50 years for Brittany Ferries.
"From customers and suppliers, to the French crew that will sail with her, we all look forward to welcoming Salamanca to the Brittany Ferries family ahead of her sister ship Santoña a year later."
Brittany Ferries and Stena RoRo have signed long-term charter agreements for three more ships in the Stena E-Flexer series.
All of the vessels will be LNG-driven and are expected to be delivered between 2023 and 2025.
Stena E-Flexer vessels incorporate cargo as well as passenger capabilities and are bigger than standard ferries.
In July, CMI Jinling (Weihai) secured an order from Stena RoRo for the construction of two new ships.