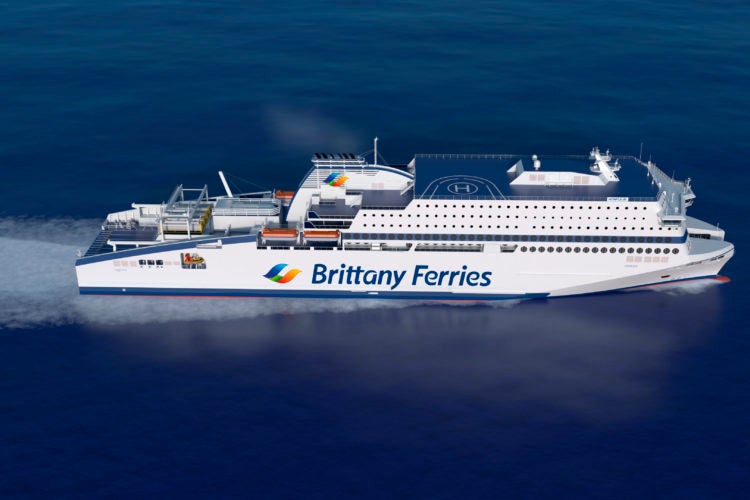 French ferry operator Brittany Ferries and Somanor have announced the termination of the shipbuilding contract for Honfleur, a liquefied natural gas (LNG)-powered ferry.
The companies terminated the Honfleur contract with Germany-based Flensburger Schiffbau-Gesellschaft (FSG) shipyard.
The vessel is under construction since 2017 in Flensburg, Germany. Honfleur was scheduled to enter service in June 2019 but the vessel delivery was postponed due to continued financial problems faced by the yard's management.
In a statement, Brittany Ferries said: "The change of the main shareholder in September 2019 with the arrival of Lars Windhorst and the Tennor group did not allow the yard to return to growth and competitiveness."
In May 2020, the yard was put under the protection of the Commercial Court.
Following 'unsuccessful' discussions with the management of FSG and its main creditors, companies said that they 'lost confidence in the yard's ability to complete the vessel within a reasonable period of time'.
In 2017, the European Investment Bank (EIB), Brittany Ferries and the Societe Generale bank finalised a financing agreement for a new LNG powered ferry owned by Brittany Ferries.
Societe Generale acted as the main arranger of the €142.6m funding for the acquisition of Honfleur.
The financing package also includes a tranche of €49.5m that will be fully guaranteed by the EIB.
Last year, Brittany Ferries and the Columbia Threadneedle European Sustainable Infrastructure Fund (ESIF) signed an agreement to buy Condor Ferries.