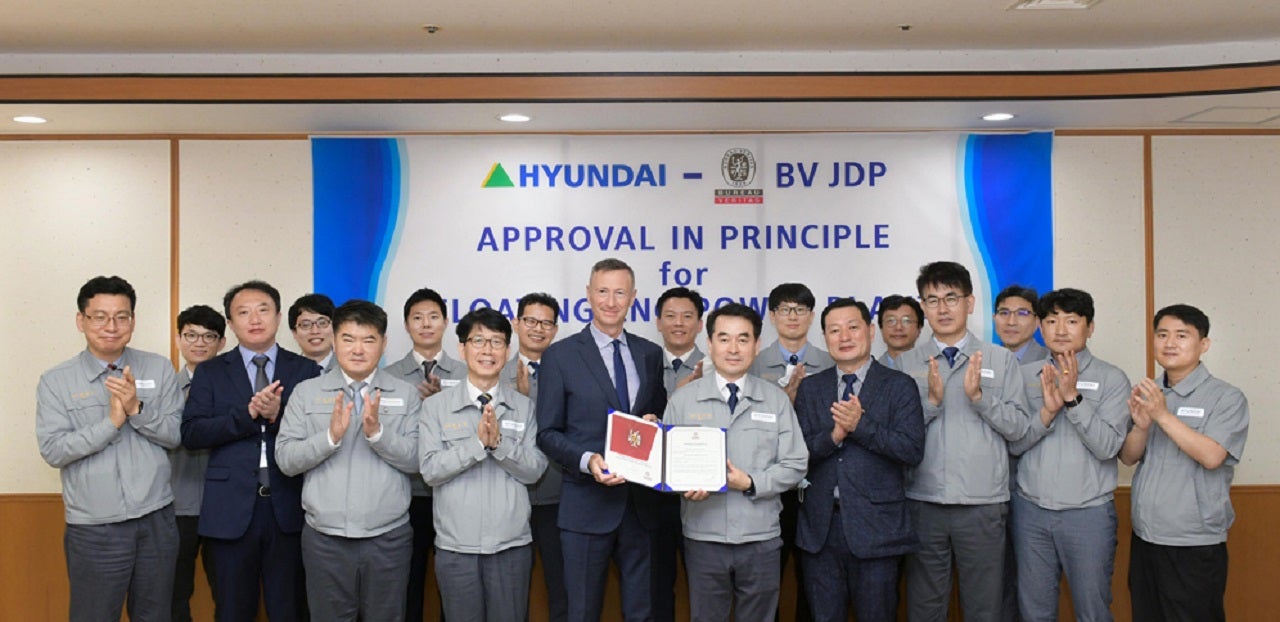 Singapore's Bureau Veritas (BV) has granted approval in principle (AIP) to Hyundai Heavy Industries for its Hyundai innovative Floating LNG to Power solution (Hi-FL2P).
The certificate was granted in a ceremony at HHI in Ulsan, South Korea.
HHI's Hi-FL2P is an all-in-one-type floating liquefied natural gas (LNG) power plant. All equipment and systems that are required to generate and transmit power such as LNG containment, gas supply system and power plant are installed in one unit.
Hi-FL2P functions as a standalone power plant.
The development team aims to meet the global market demand with the results of AIP with BV and other technical data.
The Hi-FL2P is 164m-long and 48m-wide with a depth of 28m.
It features three LNG storage tanks that have a capacity of 81,000m³, along with 2,200m³ of marine gas oil tanks.
The unit generates power for its operation and also supplies it to the 'land without a continuous external fuel supply facility'.
HHI and BV conducted a gap analysis against BV's classification rules to ensure a competitive design for the demands of a broader scope.
The Hi-FL2P will feature the HHI HiMSEN 14H54DFV model as the power generation engine, which is developed and manufactured by HII's Engine Machinery Division.
The main fuel will be natural gas. However, diesel oil for ships can be used in case of an emergency.
With the use of a dual-fuel power generator, the operability is very high while the cost of the unit is low compared with the use of gas turbine generators.
Hi-FL2P can be used in areas where there is no required infrastructure to build new onshore power plants. It can also be used in island areas where it is hard to connect with the main power grid and other areas that require environmentally friendly power.
HHI chief technical officer Jae-Eul Kim said: "HHI strategically selected the all-in-one barge-shaped power plant with dual-fuel engines, which provides significantly lower CapEx than land-based infrastructure and also supports the global demand for environmentally friendly power generation, with the collaboration of Bureau Veritas and the Engine Machinery Division and Offshore Divisions in HHI."
Earlier this month, BV, along with Nokia and Sembcorp Marine, carried out remote surveys to promote digitalisation.