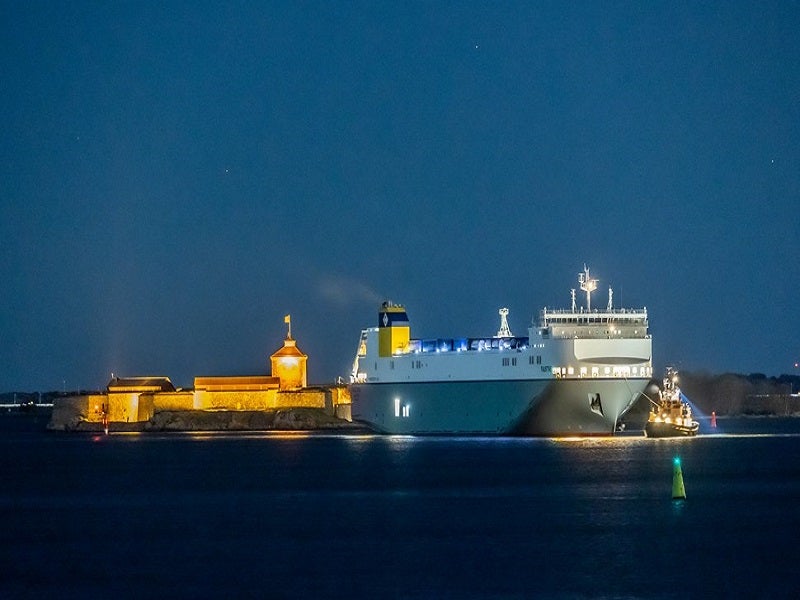 The new LNG-driven vessel M/V Faustine of Luxembourg's shipping firm CLdN has made its first call at the Gothenburg Roro Terminal in the Port of Gothenburg, Sweden.
With a length of 216.47m and width of 32.26m, Faustine has a load capacity of 450 trailers and containers.
It also has five cargo decks, along with two adjustable car decks.
This newbuild is the first of two ships ordered by CLdN that is loaded with an LNG, a dual-fuel propulsion system.
The propulsion solution can operate on liquefied natural gas or biogas (LNG/LBG) or diesel.
This roro ship, said to be the company's most advanced vessel, will sail on the Gothenburg-Zeebrugge route.
In a statement, Port of Gothenburg said: "It is an important destination for Swedish trade with Central Europe, where Zeebrugge is an important hub with a catchment area that includes the entire BeNeLux area, Germany and France.
"Swedish export goods are also transhipped at Belgian ports for further transport to other European ports in the United Kingdom, Spain or Ireland, to name a few."
At present, Port of Gothenburg has 12 departures to and from Belgium on a weekly basis.
Some of the shipping firms that function through the ports of Ghent and Zeebrugge include DFDS and EML.
Under its long-term strategy, the Port of Gothenburg plans to increase the availability of alternative fuels, such as methanol, LNG and LBG, for ships calling at the port.
Besides, the port, along with the Norwegian energy company Statkraft, has commenced a feasibility study with an aim to start in-port production of hydrogen.
Before 2030, the port will be able to accommodate electric vessels.
In June this year, the Port of Gothenburg announced plans to grow its shoreside power network to the Energy Port and link tankers to shore power from 2023.