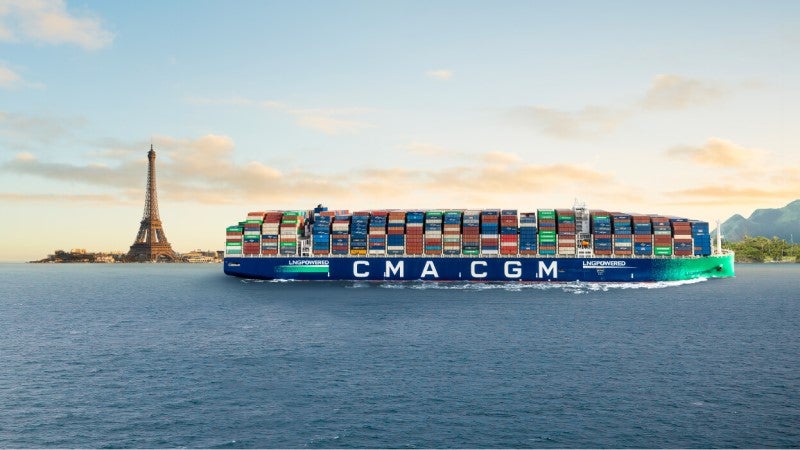 France-based shipping company CMA CGM has placed an order for seven new biogas-powered ships to serve the French West Indies.
The new container ship order will include four 7,300 twenty-foot equivalent unit (TEU) vessels and three 7,900 TEU vessels.
With delivery expected to start in 2024, the new container ships will serve the islands of Guadeloupe and Martinique, as well as replace smaller ships on routes between the French West Indies, France and Europe.
To cope with the larger capacity vessels, CMA CGM will assist with the modernisation and enhancement of the capacity of the shipping ports in Guadeloupe and Martinique, as well as increase the size of the wharves at these ports.
Fort-de-France in Martinique and Pointe-à-Pitre in Guadeloupe are central hubs in the Caribbean and South America. They will serve as the starting point for transshipments to Saint Barthélemy, Saint Martin, Guyana and north-east Brazil.
Each ship will feature 1,385 Reefer plugs and be powered by biogas, which helps to significantly cut down greenhouse gas emissions and air pollutants.
The use of biogas is part of the company's strategy to support its target of achieving net zero carbon by 2050.
Compared with conventional fuel, biogas generated from biomass is anticipated to cut down CO₂ emissions by 67%, sulfur oxide emissions by 99%, fine particle emissions by 91% and nitrogen oxide emissions by 92%.
The CMA CGM-developed dual fuel gas engine technology enables the use of biogas and synthetic methane.
The company already operates 31 e-methane-ready container ships featuring dual-fuel engines. It plans to increase this number to 77 by 2026.
Earlier this month, CMA CGM announced the creation of a $1.5bn Special Fund for Energies to support its energy transition in the shipping, inland and logistics sectors.