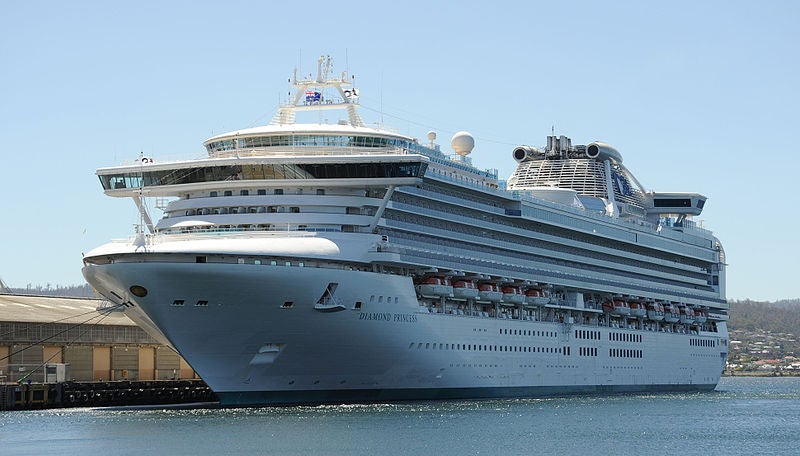 ---
Visit our Covid-19 microsite for the latest coronavirus news, analysis and updates
---
Follow the latest updates of the outbreak on our timeline.
Ten guests have tested positive for the coronavirus in the Princess Cruises' Diamond Princess cruise ship, which is stationed at Yokohama, Japan.
On 4 February, Japanese health authorities quarantined the cruise ship after a passenger tested positive for the coronavirus in Hong Kong, China.
The epidemic began in Wuhan, China, and has so far killed 492 and infected 24,527 people in 28 countries, including China.
Operated by Carnival Japan, the ship was on a 14-day round cruise trip to Japan. The Diamond Princess ship had 1,045 crew and 2,666 passengers on board.
Of the ten infected people, two are Australian, three Japanese, three people from Hong Kong, one American and one Filipino crew member.
Japanese shoreside medical professionals have transported infected passengers to the local hospitals to receive necessary care.
The cruise ship will stay in Yokohama under quarantine for at least 14 days, as requested by the Ministry of Health.
The ship will continue to carry out necessary marine operations such as freshwater production and ballast operations.
The food, provisions and other supplies will be brought on board the ship.
The guests will be provided with complimentary internet and telephone to contact their families.
In a notice, Princess Cruises said: "We will also be cancelling the next two Diamond Princess cruises, departing Yokohama [4 and 12 February] and will begin notifying guests today."
Japan has announced 20 confirmed cases of the coronavirus with no deaths so far.