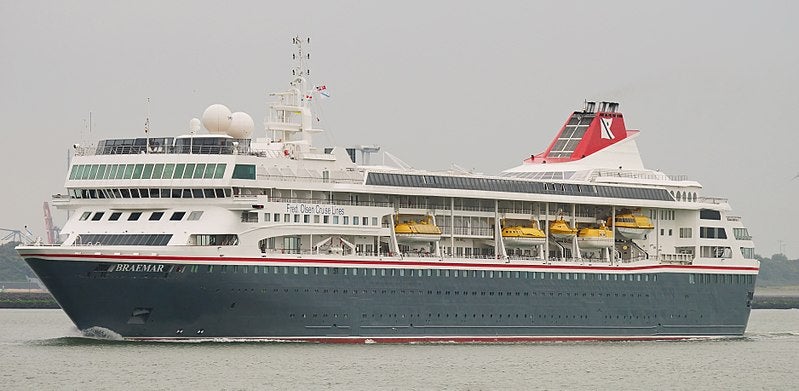 ---
Visit our Covid-19 microsite for the latest coronavirus news, analysis and updates
---
Follow the latest updates of the outbreak on our timeline.
---
Read about the effect of coronavirus (Covid-19) on cruise ships.
---
Fred Olsen Cruise Lines has announced that it has started the evacuation of the passengers on the Braemar cruise ship docked in Cuba.
All the 682 passengers from the cruise ship docked in Havana, Cuba, will be taken to the UK from the Jose Marti Airport.
Earlier this week, Braemar received permission to dock in Cuba for the disembarking of its passengers.
It was previously denied permission to dock in the Bahamas as five people on board were confirmed to be infected with Covid-19 at Willemstad, Curaçao, which was the last port of call on 10 March. Later, another guest tested positive.
The ship was anchored in the Bahamas for three days where it received food, medication and ship supplies overnight.
The passengers will be evacuated using three British Airways flights to London Heathrow Terminal 5.
However, all those under observation and with a confirmed diagnosis will be evacuated on a separate flight.
They will be taken to the MoD Boscombe Down in Wiltshire and will have to undergo self-isolation for seven days from when they started showing symptoms and if they live with others the isolation period will be 14 days.
Fred Olsen Cruise Lines managing director Peter Deer said: "I would like to extend my sincere thanks on behalf of Fred Olsen to the Cuban Authorities, the Port of Mariel and the Cuban people for their support. Other countries would not allow Braemar to dock once we had confirmed cases of coronavirus on board. Thanks to their kindness, we are now able to get people home. Your support will not be forgotten. From the bottom of my heart, thank you.
"I would also like to thank the staff at the Foreign and Commonwealth Office, the Department for Transport, the Ministry of Defence and the Department of Health and Social Care. They have worked around the clock for many days to find a way to bring our passengers home without having to resort to an Atlantic crossing. They managed to do this while also facing many other challenges around the world. I cannot thank them enough."