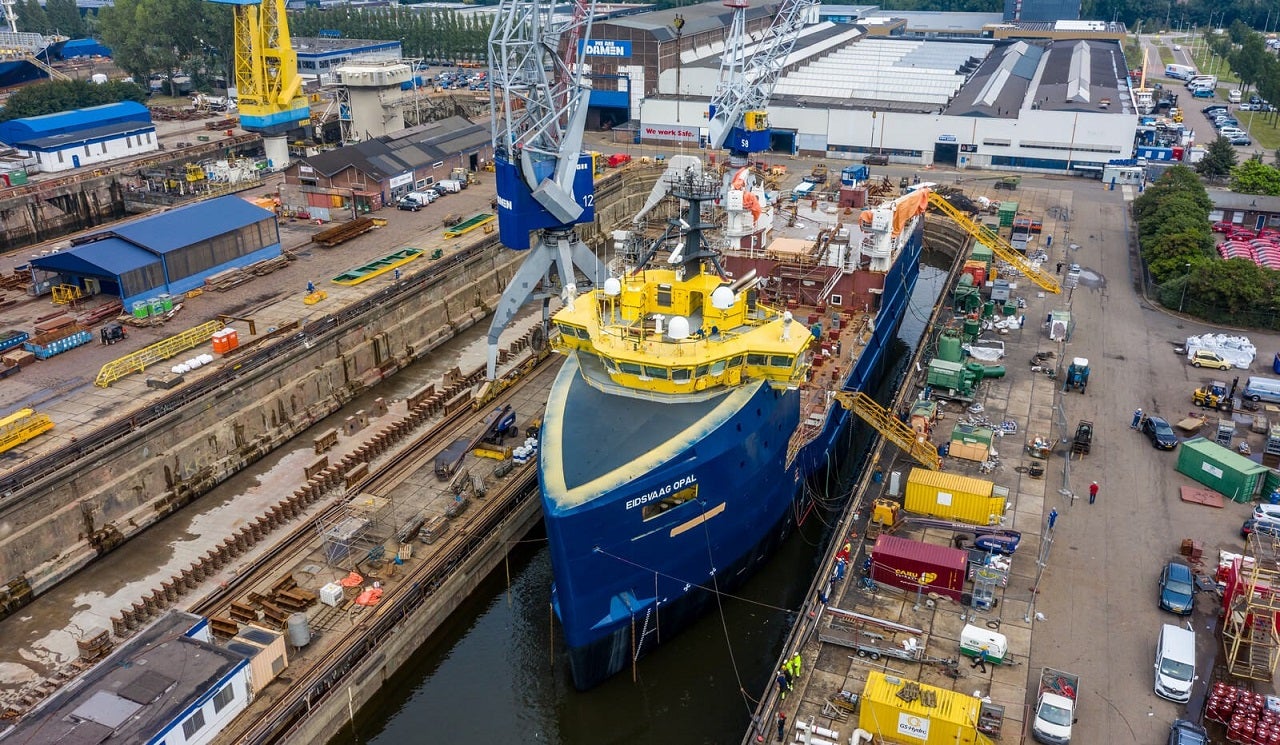 Damen Shiprepair Amsterdam (DSAm) has finished a conversion project of a former platform supply vessel (PSV) into a fish feed carrier for Norwegian company Eidsvaag .
The conversion project was undertaken by DSAm through a tender procedure.
The project involved a series of major works, including extension of the Eidsvaag Opal vessel by 5m, which was done by cutting the hull into two and inserting new steel sections.
The beam of the vessel was expanded with a series of side boxes to give extra stability and cargo capacity.
The yard integrated 35 new silos and a big bag hold, facilitating the vessel to carry up to 2,800t of fish feed.
Eidsvaag Opal was fitted with a discharge system of conveyors, buckets, elevators, a discharge arm and five new cranes.
FMJ Marine Automation carried out the electrical work while Niron Staal, Damen's specialist steel fabricator, carried out the steel work.
The Eidsvaag Opal conversion was completed in 346 days.
Eidsvaag Opal underwent her first loading test in week 43, followed by a bigger load test in week 44.
DSAm senior project manager Arjan de Vos said: "Naturally we were very concerned with the wellbeing of everyone working on the project and had to take the time to implement safety measures.
"This proved to be very effective and not only were we able to continue the work, but we did it in good time. I'm very pleased with the way that we have risen to the challenge presented by the pandemic as a team and been able to continue to safely serve our clients during this time."
The ship will operate in the Fjordfrende collaboration, which will be operated by Eidsvaag for Cargill and Skretting.
Due to Fjordfrende, the CO2 emissions of both the companies will be cut down by one fifth, by around 10-20 million kg per year.
Earlier this month, Concordia Damen Shipyard secured a contract from the institutional investors to build 40 eco-friendly dual-fuel barges, which will be chartered by Shell and operated by VT Group / Marlow.