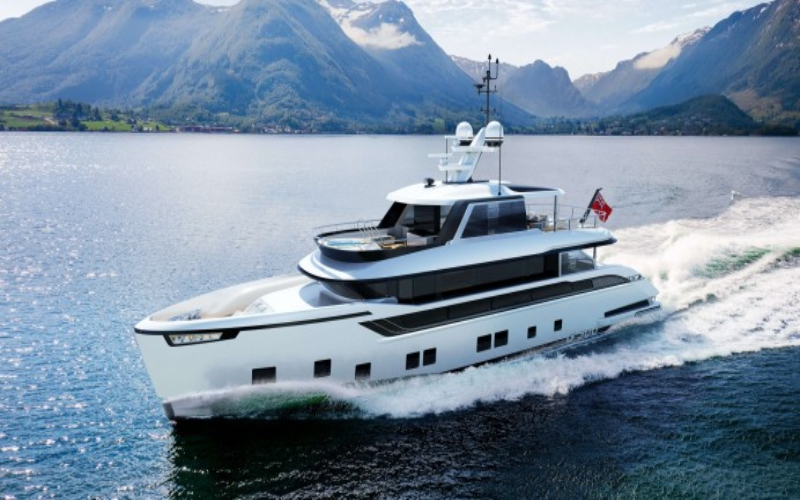 Italian shipbuilder Dynamiq has unveiled new compact model of its explorer yachts G300 for long range cruising.
Similar to other ships developed by Dynamiq Yachts, the new Dynamiq Global 300 features a low profile design.
Capable of cursing at a top speed of 19 knots, the vessel can sail up 4,000 nautical miles. It is said to be designed particularly for family voyagers and sea explorers.
A fully-aluminium vessel, the G300 is built on a 30m EPIQ platform, where EPIQ stands for efficiency, performance, innovation, quality.
Designed by Van Oossanen Naval Architects, the Dynamiq G300 has a volume of 200GT and comes at a base price of €9.15m ($10.127m).
A spokesperson from Dynamiq said in a statement: "She is designed with a comfortable fast displacement round bilge hull, to be an ideal family superyacht for long range cruising in the Mediterranean, Caribbean or Asian Pacific."
The G300 features a transformable upper deck salon with a real fireplace, as well as an inflatable pool.
Established in 2011, Dynamiq operates as a private shipyard which is owned by yacht broker and designer Sergei Dobroserdov. Located on Italy's Tuscan coast, Dynamiq construct yachts with naval architects and structural or mechanical engineering by companies based in the Netherlands.
In June, Dynamiq introduced its new yacht model known as GTT 135, the first one in a brand new series of explorer yachts.
The new series is available in three versions of 30m, 33m and 40m, with the smallest model rated at 200 GT.