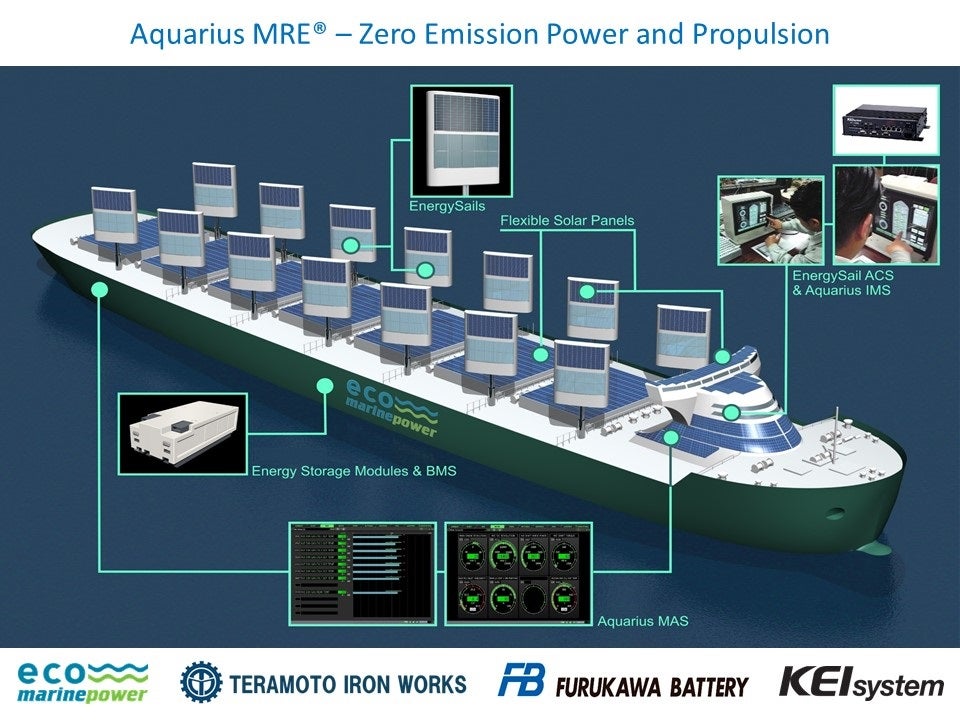 Japanese technology firm Eco Marine Power (EMP) has obtained Approval in Principle (AiP) from classification society ClassNK for its Renewable Energy System for vessels.
The system, Aquarius Marine Renewable Energy (MRE) with EnergySail, includes rigid sails, marine-grade solar panels, energy storage modules, marine computers and a charging system.
With the integrated system, ships will be able to harness energy from the wind and sun.
The rigid sails will be controlled through a computer system based on the prevailing weather conditions, allowing them to be lowered and stored during harsh weather or when vessels are in an idle state.
Built on EMP's EnergySail technology, these sails can even be used when a vessel is at anchor or in port.
In addition, the sails can be configured with photovoltaic panels, sensors or other power generation devices.
The scope of the ClassNK's AiP certification covered two main sub-systems, the EnergySail and the Aquarius Marine Solar Power.
As a rigid sail type wind-assisted propulsion system, EnergySail consists of an automated control system, driving system and sail structure.
Meanwhile, Aquarius Marine Solar Power uses solar power and comprises photovoltaic (PV) modules, batteries, a control system and electrical system.
These sub-systems are merged to form Aquarius MRE. They also have the capacity to be connected with numerous other types of equipment and sensors.
Other companies involved in the Aquarius MRE development project are KEI System, Teramoto Iron Works and The Furukawa Battery Company.
Furthermore, EMP is planning to conduct sea trials for the system in collaboration with numerous ship owners.
These ship owners are also working with EMP on other studies in connection with the usage of renewable energy systems onboard vessels.
Last week, EMP formed a collaboration with F-WAVE Company to develop Ship Integrated Photovoltaic (SIPV) solutions.