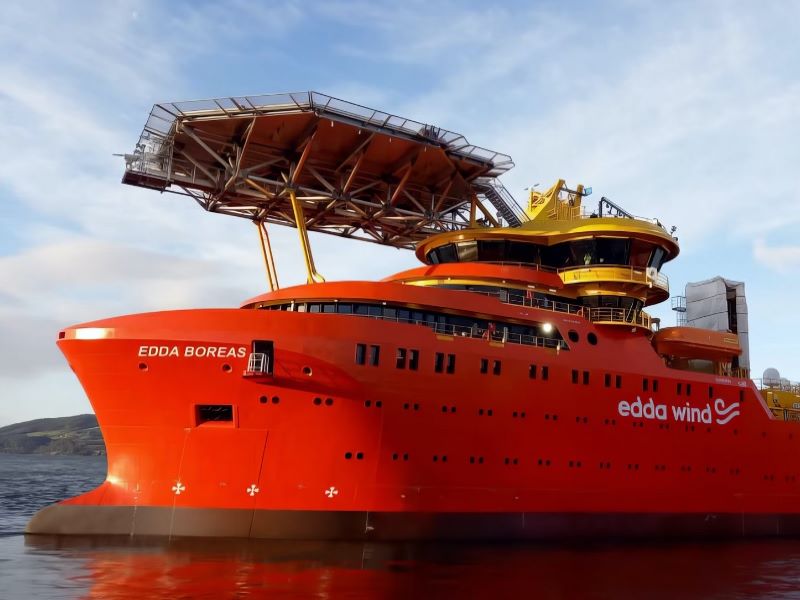 Spain-based Gondan Shipyard has delivered a new commissioning service operation vessel (CSOV), named Edda Boreas, to offshore wind service vessel firm Edda Wind.
Edda Boreas is the second of six sister vessels that will be delivered to Edda Wind by Gondan.
Initially, the vessel will have the motion-compensated gangway and crane system installed.
It will then be used at the Dogger Wind farms in UK from May. It is expected to be used for at least two years at these farms.
The design of the new vessel is said combine 'flexibility' and 'operability' to serve wind farms across the globe.
Furthermore, the vessel will support zero-emission operations, with hydrogen as an energy carrier in a liquid organic hydrogen carrier (LOHC) concept.
Edda Wind has adopted this concept to meet 'the company's stringent criteria for safe operation, logistic solutions and endurance'.
This method of on-board hydrogen handling is expected to help eliminate exposure to the safety risks that occur for other green fuel solutions.
With a length of 88.3m and beam of 19.7m, the vessel has the capacity to house 120 passengers in high-standard cabins.
Edda Wind CEO Kenneth Walland said: "Operators are continuously looking for ways to improve the efficiency of wind farm operations and reduce operating costs and environmental footprint.
"Our specially designed offshore wind service vessels provide exactly this. We expect the demand for specialised service vessels to further increase, and we are well-positioned to capitalise on this trend."
Last July, Edda Wind launched its service operation vessel (SOV), called Edda Goelo (C416), at Spain's Astilleros Balenciaga shipyard.