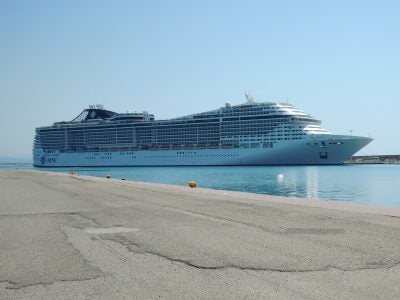 Italian shipbuilding firm Fincantieri has commenced the construction of Explora II, the second of four luxury cruise ships that are being built for Explora Journeys, the new luxury cruise brand of MSC Group.
The steel cutting ceremony for Explora II was held at the Castellammare di Stabia (Naples) shipyard.
Officials present at the event included MSC executive chairman Pierfrancesco Vago, Explora Journeys CEO Michael Ungerer and Fincantieri merchant ships division general manager Luigi Matarazzo.
Explora II will be constructed at the Sestri Ponente (Genoa) yard and is expected to be delivered in 2024.
In 2018, MSC Cruises signed a memorandum of agreement (MOA) with Fincantieri for the construction of four ultra-luxury cruise ships for a total value of more than $2.31bn (€2bn).
The vessels will weigh roughly 64,000 gross tonnes and have the latest maritime and environmental technologies and solutions.
Featuring 461 guest suites each, the ships are expected to have a 'highly-innovative' design.
Explora I is currently being constructed in Monfalcone, with delivery slated for 2023.
Apart from these four vessels, Fincantieri and the cruises division of MSC Group have partnered on eight ships.
Fincantieri delivered MSC Seaside and MSC Seaview in 2017 and 2018, respectively.
In August last year, the company announced that one of two Seaside Evo ships, MSC Seashore, was floated out at its Monfalcone shipyard.
The vessel was delivered the following July.
Furthermore, another Seaside Evo ship, named MSC Seascape, is expected to commence operations in 2022.