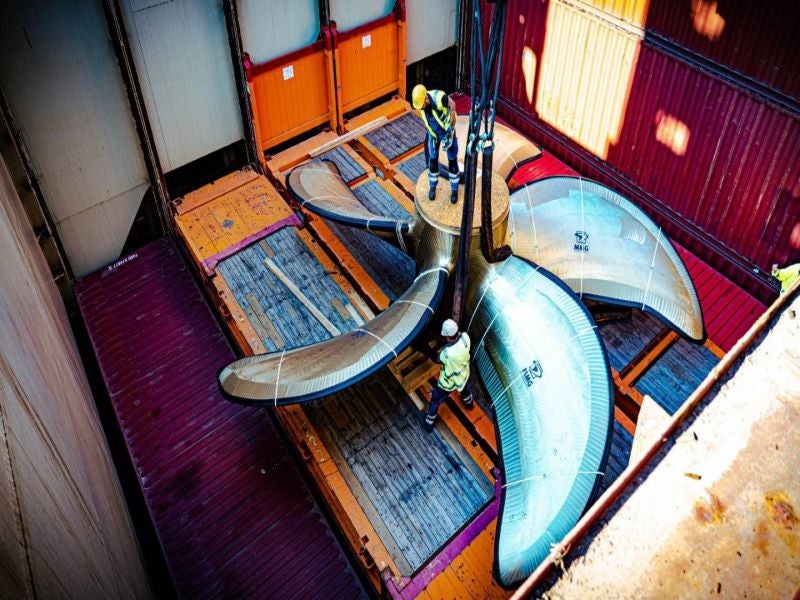 German shipping firm Hapag-Lloyd has embarked on a comprehensive fleet upgrade programme that will include more than 150 ships over the next five years.
The programme commenced with the loading of the first retrofit propeller in the Port of Hamburg, Germany.
German manufacturer MMG optimised the propeller for energy efficiency. Next month, the propeller will be deployed on Hapag-Lloyd's 7,500 twenty-foot equivalent unit (TEU) 'Ningbo Express' in Dubai.
Based on sailing conditions, the ship is expected to save 10% to 13% in fuel and CO₂ emissions.
The company intends to deploy the new propellers on a minimum of 86 vessels, while a new, flow-optimised bulbous bow will be installed on 36 ships.
A resistance-reducing coat of anti-fouling paint will also be applied to all vessels on the part of the exterior hull beneath the waterline during scheduled dry dock stays, Hapag-Lloyd stated.
The company aims to implement most of its measures by 2025 to attain its climate commitments.
Hapag-Lloyd COO Dr Maximilian Rothkopf said: "We aim to be climate-neutral by 2045. To reach this goal, we have set ourselves the interim target of reducing the CO₂ intensity of our own ships by 30 per cent already by 2030.
"To do so, we are investing in new future-proof ships while simultaneously focusing on making our existing fleet fit for the future."
Last month, Hapag-Lloyd signed an agreement to use advanced biofuels for DHL Global Forwarding shipments, the air and ocean freight forwarder division of Deutsche Post DHL Group.