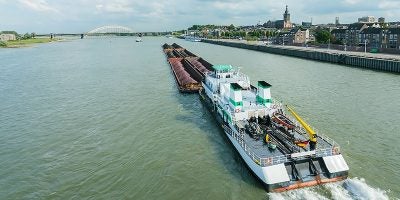 German Directorate-General for Waterways and Shipping (GDWS) has commissioned Hamburg Port Consulting (HPC) to initiate a study on information services for ports and terminals.
The study will be carried out under the Digitalisation of Inland Waterways (DIWA) project, which is funded by the EU's Connecting Europe Facility (CEF) programme.
DIWA involves four other inland waterway authorities in Belgium, the Netherlands, France and Austria.
The goal of the project is to devise a digitalisation strategy for freight transport across Europe's inland waterways.
HPC will concentrate on the creation of an inventory of the IT system landscape as well as the data interfaces between inland navigation operators and European ports.
The company will also examine the current level of 'digital maturity' and the future potential of process digitalisation at ports and for inland navigation.
HPC authorised representative Hartmut Beyer said: "The digital transformation of the inland waterways network will significantly increase the attractiveness of the mode for customers.
"At HPC, we are very pleased to be able to input into the strategic development of this important trans-European project with our combined port and IT know-how."
HPC has advised several national and international inland ports on operational matters and digitalisation projects.
Currently, it supports the Hamburg Vessel Coordination Centre (HVCC) to improve the manoeuvring process when feeder vessels and larger ships meet either in constrained areas of the Elbe or in port.
In June, HPC secured a contract to improve and enhance the terminal operations of the South Port Container Terminal in Port Sudan.