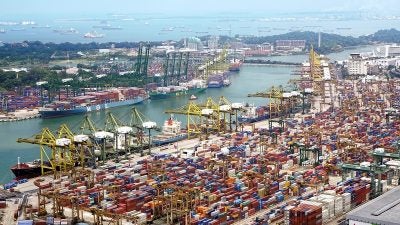 Indonesian state-owned port services company Pelindo has chosen maritime software provider Innovez One to supply its marineM digital platform for the Ports of Balikpapan and Belawan.
The solution will allow the ports to digitise the entire pilotage procedure as well as gather accurate operational data for feeding into the billing process.
Supported by marineM's artificial intelligence (AI)-based algorithms, this is projected to save time, cut down errors and support the optimisation of both vessel and berth allocation.
The marineM job planner, a marine operating system (MOS), will also streamline marine services for arriving and departing ships.
Innovez One CEO and founder David Yeo said: "The Ports of Balikpapan and Belawan have become busier over the last year, and have recognised that in order to capitalise on this success, they need to digitalise and optimise the hundreds of pilot, tug and supply boat journeys that take place every day.
"With so many operations and jobs happening at once, and the necessity to respond to a dynamic and ever-changing schedule, ports need advanced AI to help them optimise their activities."
Both the Indonesian ports are also planning to deploy AIS and GPS to automatically log ship activity and reduce errors in data capture, which will be backed by marineM.
At the beginning of the month, Pelindo I, II, III and IV were merged into one entity, covering the entirety of Indonesia.
With this merger, Pelindo is said to have become the eighth-largest terminal operator globally.
In addition, the merger has led to the formation of a new sub-holding called PT Pelindo Jasa Maritim (Pelindo Marine Service).
Pelindo Jasa Maritim president director Prasetyadi said: "We've seen how marineM as a MOS has enabled a digital step-change for ports around the region and we are excited to work with Innovez One to make our marine operations smarter, more efficient and more transparent."
Earlier this month, Cast Marine Offshore selected Innovez One's MarineM digital platform to optimise its passenger and equipment ferrying services.