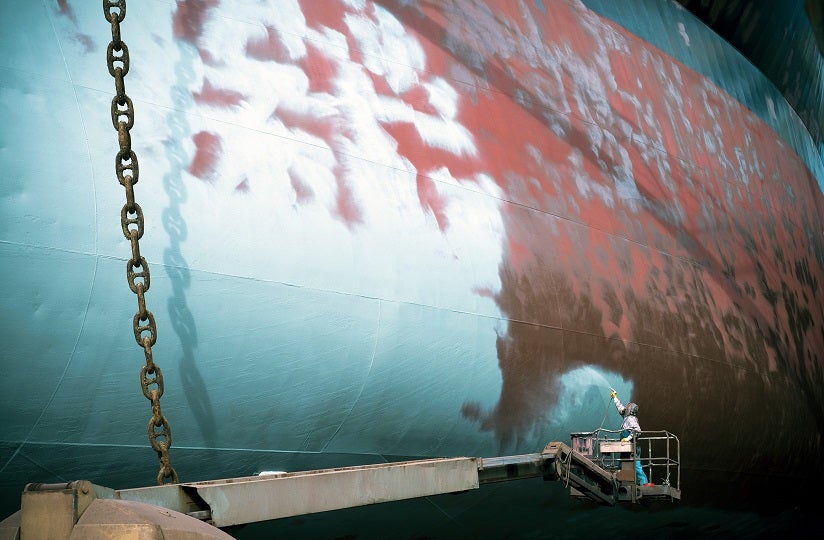 Danish biotech company Cysbio has found a way to remove copper from the paint used on ships, which could improve the efficiency and reduce the environmental impact of the vessels.
The company has developed and patented a fermentation technology to produce eelgrass acid as a replacement for copper in antifouling paint. Eelgrass is a plant that grows naturally on very low shores, down to 10m deep.
Eelgrass acid can be used to prevent various microbes, as well as larger organisms, from attaching themselves to surfaces. Thus, the new product can be used in antifouling paint for ships, thereby avoiding the use of environmentally harmful materials.
Almost all container ships and other vessels that sail the world ocean daily are coated with antifouling paint, which prevents invasive species from attacking the ships' hull, which increases ships' water resistance. Unfortunately, there are many harmful chemicals present in these paints, including copper.
"Current antifouling paint is primarily based on older technology in the form of traditional biocides containing heavy metals, primarily copper, and it's proven difficult to produce a more sustainable substitute," said Henrik Meyer, CEO of Cysbio,
"Eelgrass only produces a tiny amount of eelgrass acid, so extraction directly from the eelgrass plant material is not affordable and production by chemical synthesis is also too expensive to allow commercial use. However, by brewing the acid, much like brewing beer, using our genetically engineered microorganisms to make eelgrass acid, we can make production much cheaper and based on renewable carbon sources, thereby making the whole process and the antifouling products fully sustainable."
Without antifoulants in the paint, invasive organisms can attack a ship's hull, which increases the ship's frictional resistance and decreases speed, while fuel usage and shipping costs increase. Ships also emit more CO2 and risk spreading invasive microorganisms from one ecosystem to another.
Due to the lack of current alternatives, antifouling paints containing copper are still permitted, but environmental authorities across the globe have started to take measures against the ingredient in paints.
Jens Tørsløv, industry VP at DHI Water Environment Health, an independent research organisation, said: "The industry is aware of the paint's unwanted effects, and there have been previous attempts to tighten the regulation for the use of chemical substances in ship's paint.
"But the paint still contains some copper, and too much copper in the water can affect the ecosystem. Now, there are alternatives for the industry, and that's positive"
Sweden has fully banned ships with copper paint in the Bay of Bothnia and freshwater lakes, while the Netherlands and California have introduced restrictions that prohibit the sale of ship paint with high concentrations of copper for yachts and recreational vessels.