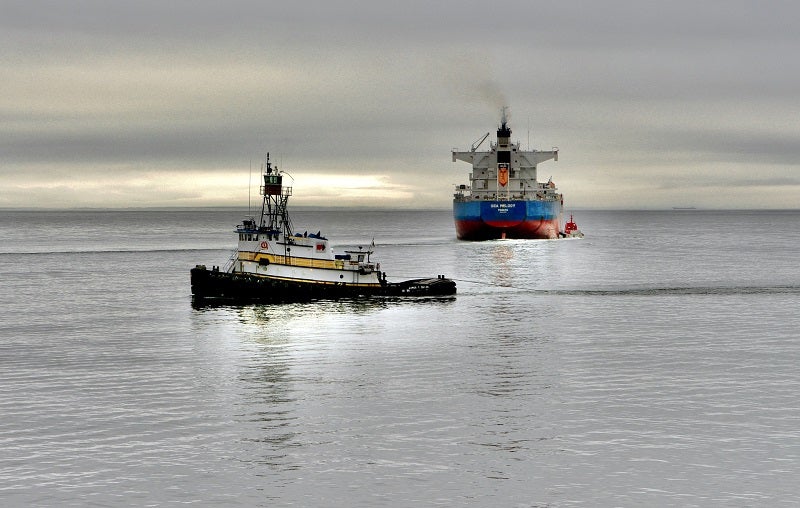 Mitsui OSK Lines' (MOL) group company Nihon Tug-Boat has announced that its liquefied natural gas (LNG)-fuelled tugboat, Ishin, has been supplied with carbon-neutral LNG (CNLNG).
The CNLNG fuel was provided by Osaka Gas and Daigas Energy, marking the first use of CNLNG as ship fuel in the country.
The truck-to-ship LNG bunkering procedure for supplying the fuel to the tugboat was carried out at the wharf in Sakai Senboku Port, Osaka.
With a gross tonnage of 247t, Ishin has a length of 43.6m and a breadth of 9.20m.
It is equipped with two Yanmar 6EY26DF dual-fuel commercial marine engines and has a draft of 3.15m. Ishin can sail at a speed of 16.4k.
Owned by MOL, Nihon Tug-Boat has been operating the tugboat since 2019.
Since starting operations, the tugboat has been provided with LNG fuel by Daigas Energy.
Now, Daigas Energy and Nihon Tug-Boat have signed a memorandum of understanding (MoU) for the delivery of CNLNG for several years.
According to MOL, CNLNG fuel is projected to experience an increase in demand for general use and as vessel fuel in future.
The company is working towards attaining net-zero greenhouse gas (GHG) emissions by 2050 as stated in its MOL Group Environmental Vision 2.1 that was released in June.
MOL is preparing to introduce nearly 90 LNG-fuelled ships by 2030 and has implemented the Adoption of Clean Alternative Fuels strategy.
In a statement, MOL said: "The Ishin is MOL's first LNG-fuelled vessel, and the group continues its proactive push on new initiatives to reduce GHG emissions."
Separately, Nippon Yusen Kabushiki Kaisha (NYK) and Fujitsu have unveiled Fujitsu's quantum-inspired Digital Annealer technology.
By leveraging the technology's combinatorial optimisation competencies, this tool will help in organising complex stowage planning for car carriers.
In June, NYK and mining firm Anglo American, as well as biofuel supplier Toyota Tsusho, conducted a test run of biofuel for ship-to-ship bunkering for NYK bulk carrier Frontier Jacaranda.