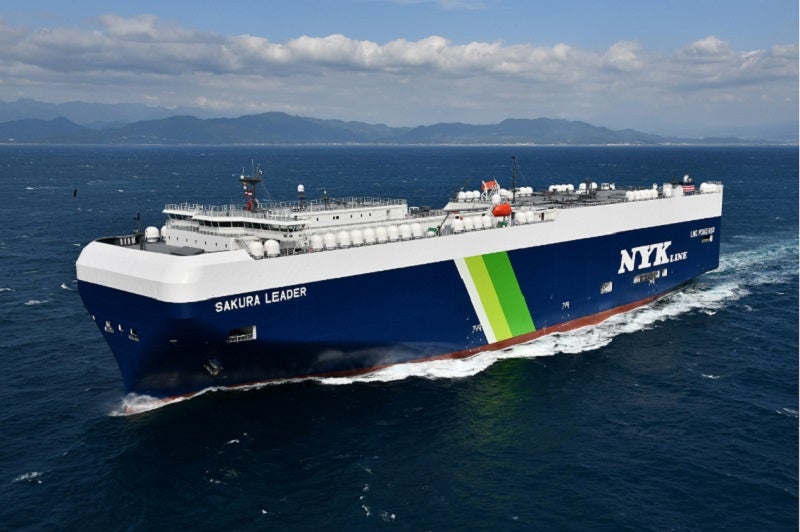 Japanese shipping firm Nippon Yusen Kabushiki Kaisha (NYK) has signed a memorandum of understanding (MoU) for the consecutive construction of liquefied natural gas (LNG)-powered pure car and truck carriers (PCTCs) at two shipyards.
In total, 12 new vessels will be built – six at Nihon Shipyard and another six at Shin Kurushima Dockyard.
The newbuilds are scheduled for delivery in a phased manner from 2025 to 2028.
With an overall length of 199.95m and breadth of 38m, each vessel will have a total car capacity of roughly 6,800 to 7,000 units.
The vessels will be designed according to the PCTC fleet replacement plan.
This plan is expected to help NYK achieve its environment management target of cutting carbon emissions per tonne-km of transport in half by 2050.
The PCTCs will operate on LNG fuel, resulting in a reduction of carbon emissions by about 40%, as against those vessels that run on conventional heavy fuel oil.
Furthermore, the newbuilds will feature modified hulls for better fuel economy.
The company's Automotive Transportation Headquarters has been facilitating the conversion of future newbuild PCTCs to LNG-fuelled vessels through its Sail GREEN project.
In October last year, the company delivered Sakura Leader, which was the first LNG-powered PCTC to be constructed in Japan.
NYK is planning to introduce as many as eight LNG-fuelled PCTCs by 2024.
Through a combined investment of nearly $1.82bn (JPY200bn), the company's total number of LNG-fuelled PCTCs is anticipated to expand to 20 by 2028.
In a statement, the Japanese shipping company said: "NYK aims to further advance to zero-emission vessels utilising marine fuels that have a lower environmental impact, such as hydrogen and ammonia, from around 2030. For the moment, NYK is positioning LNG fuel as a bridge solution until future zero-emission ships can be realised."
Last week, NYK joined the Global CCS Institute for facilitating the use of carbon capture and storage (CCS) technologies globally.