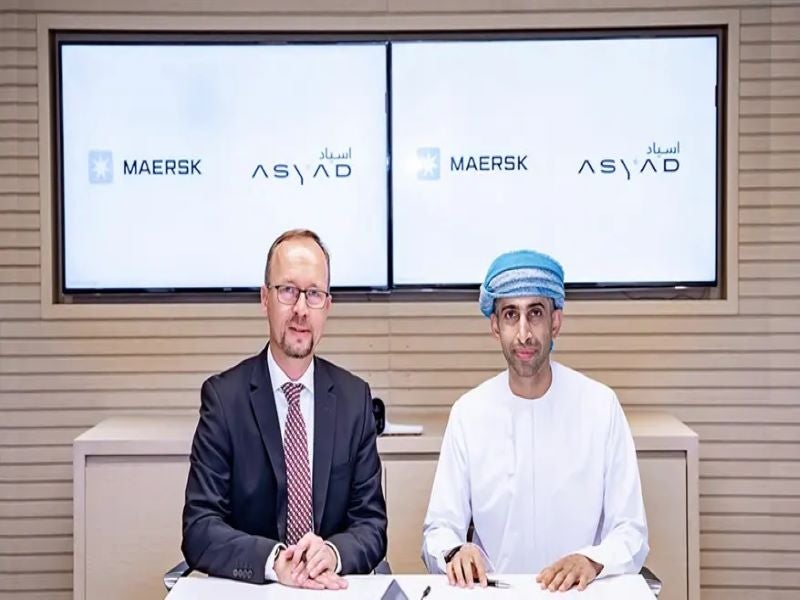 Danish shipping company AP Moller – Maersk has expanded its Port of Call network with the addition of Khazaen Dry port (KDP), which is part of Asyad Group, in Oman.
To easily import and export goods, Maersk's network offers business transportation, container terminal and reefer container services.
KDP is said to be a strategic location near the manufacturing hubs of Maersk's customers around Muscat, as well as a gateway to global markets.
With an area of 100,000m², KDP is close to the Saudi-Omani border, United Arab Emirates (UAE)-Oman border, Port of Sohar, Port of Salalah and Port of Suwaiq.
KDP is said to be a 'one-stop shop' close to Muscat for cargo movement, inspection, handling and storage of containers, and customs clearance.
Maersk is providing time- and cost-efficient solutions for its customers by adding KDP to its network of ports, as well as offering land freight and value-added solutions to and from KDP.
The long-term commercial agreement with Maersk is part of Asyad's strategy to enable trade and support local merchants in conducting business to global standards.
The agreement is also expected to enhance KDP's global position as an import, re-export and transhipment centre, turning it into one of the key logistics hubs in the region.
Maersk West & Central Asia ocean customer logistics head Mads Skov-Hansen said: "At Maersk, our ambition is to connect and simplify our customers' supply chains by providing them integrated logistics services across land, sea, and air network.
"Our customers can swiftly move their goods worldwide through our network that spans over 130 countries on more than 730 of our vessels."
Earlier this month, Maersk joined forces with the Spanish Government to conduct a feasibility study on the production of large-scale green fuels in the country.