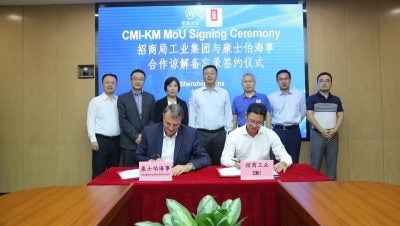 Kongsberg Maritime (KM) and China Merchants Industry (CMI) have signed a memorandum of understanding (MoU) to provide sustainable solutions to shipowners globally.
The two companies will work together on the design and fit-out of particular types of vessels to aid shipowners in their eco-friendly long-term investments.
Through clean marine propulsion solutions, KM plans to support the Chinese shipping industry in meeting the International Maritime Organization (IMO) 2050 emission targets, along with China's goal of attaining a carbon-neutral economy by 2060.
Under this partnership, the companies will collaborate on areas, including cargo vessels such as container feeders or chemical tankers, large natural gas carriers (LNGC), mid-sized cruise and passenger vessels, fuel gas supply systems (FGSS), as well as offshore wind and aquaculture offshore installations.
CMI deputy general manager Wu Sichuan said: "Signing off on this MoU is a very hopeful step forward for both parties.
"Working in such close collaboration will speed processes such as partnership negotiations, bring clarity and focus to joint development projects and simplify the procedures by which integrated solutions are devised and put into practice, helping to provide shipowners with better solutions."
The signing of the MoU was witnessed by China Merchants Hoi Tung, a company of China Merchants Group .
KM has a long history of cooperation with China Merchants Hoi Tung, and this MoU is expected to further expand the cooperation between them, while also bolstering collaboration between the two firms and China Merchants Industry in joint ventures and maritime trade.
Through its subsidiary firm Kongsberg Maritime China , KM has been delivering key products and services to the Chinese maritime sector.
In June, NLNG Ship Management selected Kongsberg Maritime to deliver the patented JAWS (Just Add Water System) draught and trim optimisation software from Shell across its fleet.