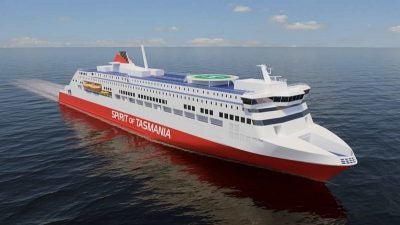 Kongsberg Maritime (KM) has received a contract from Finnish shipyard Rauma Marine Constructions (RMC) to supply propulsion and steering equipment for two new car and passenger ferries.
Operated by the Australian firm TT-Line, the ferries will provide the regular Spirit of Tasmania ferry service, a 10.5-hour voyage across the Bass Strait between Melbourne, Victoria, and Devonport, Tasmania.
Each ferry will be equipped with two of KM's Promas combined propulsion and steering systems.
These solutions integrate the rudder and controllable pitch propeller, thereby enabling not just efficient thrust but also manoeuvrability.
Before securing the deal, KM conducted an advanced computational fluid dynamic (CFD) analysis of the Promas units.
The analysis was done to ensure cavitation properties were established and guarantee the optimal performance of the 26-knot cruising speed of the vessel.
For enhanced manoeuvrability, the vessels will also feature four of KM's TTC tunnel thrusters.
At a gross tonnage of 48,000t, each new ferry will be able to carry 1,800 commuters.
These new ferries will replace the Spirit of Tasmania I and II, which have been powered by Kongsberg Kamewa propellers and tunnel thrusters since their construction in 1998 in Finland.
Kongsberg Maritime hydrodynamics, propulsion and engines manager Göran Grunditz said: "Since we equipped the previous vessels more than 20 years ago, we have worked hard developing increasingly efficient and manoeuvrable propulsion solutions as part of our ongoing work at our Hydrodynamic Research Centre in Sweden.
"We are confident that the Promas system fitted to these vessels will not only deliver the same reliability but also significantly improve performance, efficiency and manoeuvrability."
TT-Line expects to receive the first ship in late 2023, with the second in 2024.
Last month, Kongsberg Digital secured a contract to supply its Vessel Insight infrastructure solution for the entire Island Offshore fleet of 26 offshore ships.