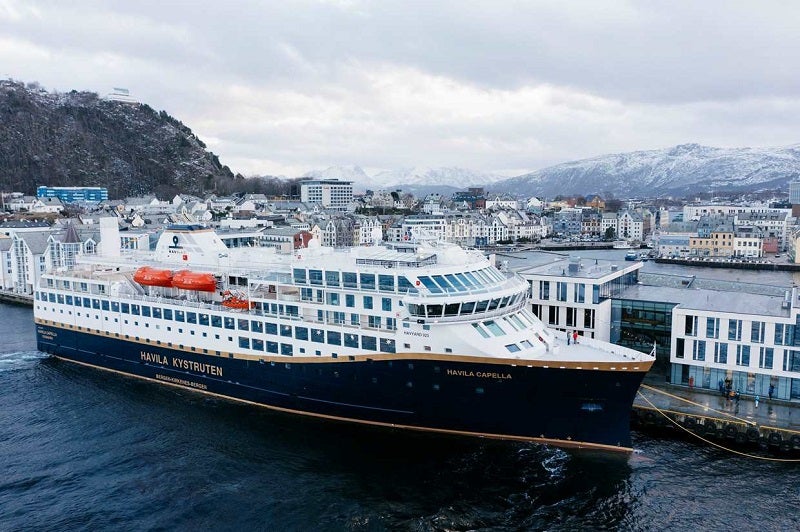 Kongsberg Maritime (Kongsberg) has secured a contract from Norwegian cruise company Havila Kystruten to deliver an engine and thruster package for the latter's cruise vessel, Havila Capella.
The vessel is presently operating on a new 12-day sailing route along the Norwegian coast, between Bergen and Kirkenes.
Designed by HAV Design, Havila Capella features integrated, 'energy-efficient' Kongsberg technologies.
Kongsberg will supply 16 Bergen gas engines to Havila Kystruten.
With a fuel efficiency rate of nearly 50%, these engines will utilise variable turbo geometry to offer an optimal response at all speeds.
They can deliver up to four hours of zero-emissions running time as well as cut down the emission of carbon by 25% and NOx by 90% due to the use of liquid natural gas.
Kongsberg sales senior vice-president Ottar Ristesund said: "All told, greenhouse gas emissions from our Bergen gas engines are around 20% lower than those from similarly-rated diesel engines.
"Even when we take the methane slip, the unburned fuel, into consideration. They are far cleaner to operate, and users report a reduction of as much as 10% in maintenance costs compared to diesel engines."
Additionally, the main propulsion of Havila Capella uses a Kongsberg Azipull-Permanent Magnet (AZP-PM) unit with an L-drive configuration.
The AZP-PM motor is placed within the mounting flange diameter, which gives the benefit of a compact installation footprint.
Havila Capella's tunnel thrusters use Kongsberg permanent magnet technology, which integrates space-saving convenience with the benefits of low vibration, low noise and enhanced operation.
The tunnel thrusters' rapid response times to full power also increase operability and manoeuvrability.
In June, Kongsberg was selected by NLNG Ship Management Limited (NSML) to supply Shell's patented Just Add Water System (JAWS) draught and trim optimisation software across its fleet.